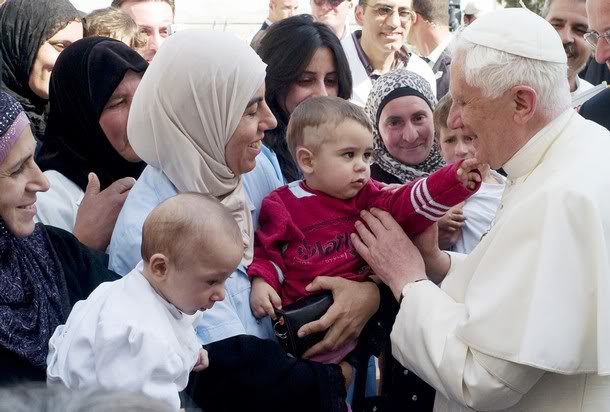 An unusual post for an unusual day. I'm transcribing my notebook because I don't have anything particularly structured to say about our Holy Father's resignation:
He, the scholar by the window, braving a life of declarative sentences and scriptural exegesis, was swept up into ecstasy by the Holy Spirit to dwell in high places with Him.
On the day of his anointing he wore a sweater underneath his finery, for it was cold. "Pray for me," he said to me, "that I may not flee for fear of the wolves."
But what a wolf-wrestler our sweatered German turned out to be. He taught me that the Dictator is best assassinated by silence. Silence and encyclicals.
I'm sure he missed his books, his window, and the sparrows fidgeting outside, but he was courageous. He was the second hundred and fifty sixth, the sixteenth and the first. He told my generation to "leave the dead-end streets of consumerism" and we haven't listened yet.
I saw his cap fly off in the wind as he preached in a Spanish storm. His heart is as pure as his prose. He is a man of peace that cleaves like a sword.
He ruled with authority, motu proprio, applying salves to the schisms in the Skin, going about the business of waking a yawning Church with reminders of Her glory: See how the sparrows are clothed in surplices, stoles, cassocks, and frocks, the trees with their crosiers and capes. Do not ask what we will wear, the Bride of Christ is provided for. Just read the General Instruction of the Roman Missal.
He played the piano because God is Beauty, and "it is in this – in truth, in goodness, and in beauty – that we find happiness and joy."
Enemies crowned him, jewels of a love that makes declarative sentences, while he made American saints and prayed for the salvation of sinners. How unwitting the darkness that made his light shine brighter.
He leaves as he came, with a humilty that shocks the world.