It's been twelve kinds of too long since I linked up with Jen for quick takes, so yay!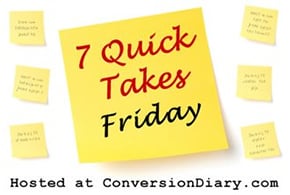 #7
I have no idea if that phrase, "twelve kinds of too long", is a legit phrase or not. I've never heard it. But I wrote it, and I like it, and I shall use it.
#6
The Ogre and I started HIIT training last Monday. So this is the end of week 2, and incredibly, I am still so sore I can barely walk.
I'm not exactly an exercise novice. I ride that train like Lane Frost rode a bull, ya know? 8 seconds on, two months lying in the dirt, crying and eating Ben and Jerry's. But in all the time I've worked out, I have never done something that has kept me almost as sore on day 10 as I was on day 1.
And it's just sprints (although the Ogre is throwing in some squats and push-ups and pull-ups and calf-raises and ab work, because he hates me). As it turns out, I can throw myself into sprints way more enthusiastically than I can any other kind of stationary exercise. So enthusiastically that I've nearly thrown up almost every single day.
#5
I believe that my success in this endeavor can be directly tied to my awesome imagination. See, we sprint on this soccer field by the playground near our house, so the kids have to wait patiently by the fence until we finish our sprints, then we let them go play on the playground for a half-hour.
Early on, I realized that I was going to have to find some way to distract myself from wanting to die, so I constructed this neat little scenario to spur me on to even faster sprints. When I'm sprinting toward the kids, I imagine that there's a walker shuffling slowly toward them, close enough that I have to haul ass to get there before they get eaten. When I'm running away, I imagine that there is a horde of zombies right on my tail, and I have to run as fast as possible for as long as possible to distract them from my kids long enough for my kids to get away.
#4
Alright, fine, sometimes when they're being exceptionally difficult, I'm all, "you guys are great zombie-bait, so I better run while I've got the chance!"
Then I have guilt and have to have a come-to-Jesus moment with Jesse Eisenberg.
I know, my imagination is a frightening place. Full of zombies.
I kind of like it that way.
#3
Speaking of kids and awesomeness, Sienna had to build an invention for school this week. If you're friends with me on facebook, you no doubt witnessed my angst over her desire to build a "rainbow detector" and then my total mental implosion as my facebook friends started covering my wall in science.
She ended up going with my idea, a gate that doesn't allow you to enter the front door unless you hang your backpack on the hook, thereby raising the gate. (Come on, you know you want one for your kids too!)
She and the Ogre built it last night out of Legos, and it actually worked and everything, because they're Lego ninjas.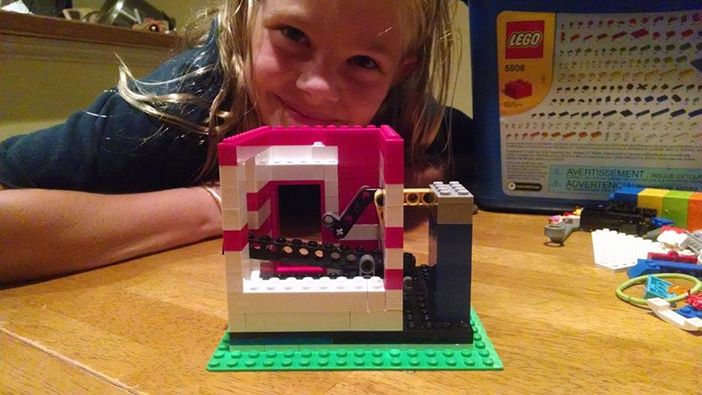 #2
Then the Ogre showed her this, which is so awesome that I wanted to punch things afterward. (You know, victory punches. Or something.)
#1
Sorry, but I gotta go watch Zombieland now. Happy weekend! Go see Jen for more quick takes!