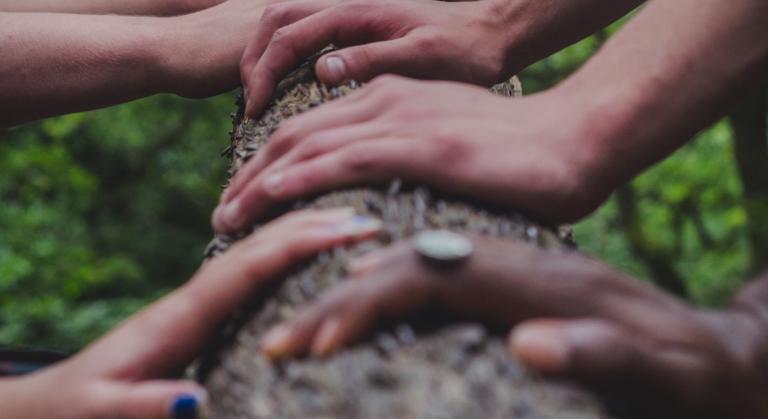 One of my favorite wisdom teachings:
"We respond to a deeply interdependent and responsive universe through shared experiences. This means that despite signs of postmodern fragmentation and the rise of radical individualism, we cannot carve out shared destinies in isolation. We are born not only into a wondrous and mysterious life space but also into communities of interpersonal reliance."

– Barbara Holmes
Some things this brings up in me:
Our understanding and experience of life is deeply influenced by and infused within our communities. What have your communities taught you about your value, your relationship with the universe, and your responsibility within it?
We are a part of this universe, not separate from it. There is no "human world" and "natural world."
Emphasizing the personal without the collective is nonsense. The "self-made man" is a caricature of what it means to be a successful human; it is a harmful and dehumanizing myth. Wholeness is always a shared experience. It is found within and made possible through community.
No matter what we might try to do or what might be done to us, each of us is dependent on all of us (our communities – human and otherwise). Our personal enlightenment means little if we lose sight of the trees and critters as our genetic siblings, the water as our body of atomic ancestors, and each other as our fellow journeyers.
Expansion and growing deeper includes a dedication to communal and collective healing – that we are active participants within a great web of being, each of us being relied upon and relying on each other.
What are things you feel emerging within you from this teaching? Reply in the comments!
---
Happy New Year Book Sale!

"In Unmasking the Inner Critic, Andrew Lang has created a beautiful and accessible guidebook to help you do the inner work central to the act of being human."
—Brian D. McLaren, author, activist, and teacher with the Center for Action and Contemplation
Rooted in the teachings of mystics, saints, poets, and prophets, Unmasking the Inner Critic: Lessons for Living an Unconstricted Life offers guidance and support for how to move beyond some of our most challenging fears and negative inner narratives.
With an intuitive blend of reflection questions, contemplative practices, action prompts, and his own personal story, Andrew Lang shares the wisdom from secular poets and therapists—as well as from Christianity, Buddhism, and Sufism—that has grounded his workshops for almost a decade.
Discover how to:
do the work of inner excavation with spiritual practices that hold and embolden it,

dig deeper for a more authentic way of living and being who you truly are,

lay aside the masks that keep you from fully experiencing the world,

engage the inner life as the beginning of sustainable activism, and

live a healthier, more confident, and well-grounded life.
The perfect book for progressive Christians, secular seekers, and those who are deconstructing Christianity, Unmasking the Inner Critic helps us expand our spirituality beyond the institution of religion for our personal transformation and communal healing.
New Year Sale Information
From January 1st-7th, you can get both versions of Unmasking the Inner Critic at a huge discount!
Get the eBook on Amazon here for just $0.99!
Or get the paperback here for only $8 + shipping! (It is currently selling on Amazon for $18.95 + shipping.)