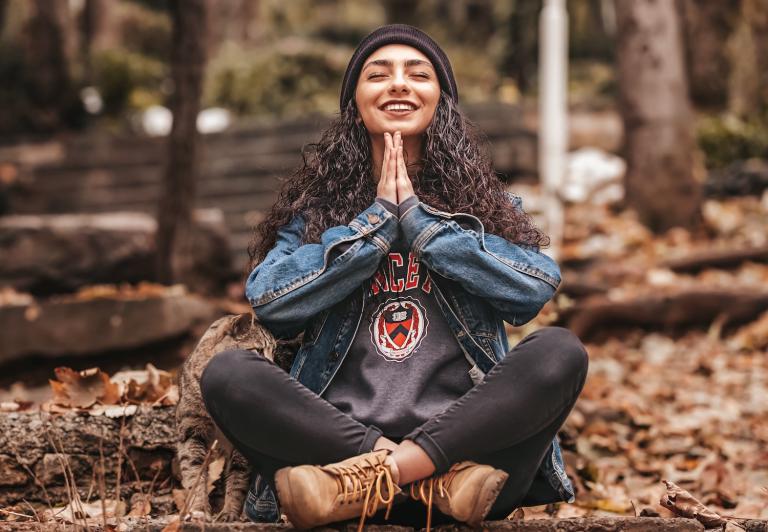 When you sit for a meditation, are you settling for a "high-class sedative?"
That's what Thomas Keating called it when we engage in practices that numb us out with temporary feelings of bliss and contentment without challenging us.
To engage in spiritual practices that are truly change-making, we have to set aside our desire for comfort and instead lean into the discomfort of the unknown.
Because that's how we deepen and grow.
Here are 7 ways you can build a practice that challenges you:
1. Practice identifying what your body is experiencing.
Many of us treat our bodies as if they are simply vehicles for our brains.
But our central nervous systems know different. Walk down a street and pay attention to how your body relates to your surroundings – you'll quickly find that your body reacts faster to your context than your brain can understand it. In other words, your body holds knowledge about life that your brain is still trying to process.
Any holistic spiritual practice must include tapping into the knowledge your body holds and learning to listen to its language.
Tip: Include a body scan as you enter every period of silence.
2. Engage in silence with members of your spheres of influence.
Personal transformation means nothing if it isn't connected to collective healing.
Here's a way to begin tying the two together: find a community of silence-sitters, like you, who are willing to commit to engaging in silence as a group. But that's not enough – make sure this group shares its insights and challenges together, including the questions they are grappling with. Then, embolden each other to take action on those insights.
Collective healing requires communal practice.
Tip: Use this framework when you gather a group together.
3. Shift your mindset from personal to collective.
It's so important, I'll say it again: personal transformation means nothing if it isn't connected to collective healing.
In the Western world, many of us have been given a primary lens of individualism through which to understand our lives. It is a necessary and countercultural act to shift and instead recognize our personal lives within the context of community.
Our communities, the global community, and even our ancestral community.
You are not "self-made;" we are each community-made. Practice noticing how that is true in your life as often as you can.
Tip: When you finish a meditation, imagine and visualize your connectedness to your communities.
4. Get active in your communities.
Thomas Merton once told the parable of the spring and stream.
The spring is our inner life; the stream is the way we show up in the world (our actions.) Without action, our inner lives become stagnant; without contemplation and meditation, our actions dry up.
Each of us has an assortment of communities in which our streams can flow into: family, workplace, volunteer spaces, school, etc.
Be intentional with how your meditation is emboldening you to walk in your communities in a new way.
Tip: After a meditation, set an intention for how your silence will lead to a presence of compassion in your communities.
5. Learn to ask deep questions. Practice a lot.
Remember what you learned in elementary school?
Who? What? When? Where? Why? How?
Start to practice asking more questions about your inner life and how you can show up in the world. Here are some examples:
What crossroads am I at right now?
How can I make change in that space?
Why did I respond with such anger?
What fear is under that interaction for me?
Who do I want to be in that space?
When might I be able to listen a bit better?
Tip: Between meditations, make it a practice of writing down questions you have for your inner work and outer engagement in the world.
6. Engage in body practices between meditation sessions.
Every time we engage a body practice, we're increasing our capacity to be present to our own experience of life.
And most of us need the practice! When I started doing regular body practices, I realized how much I had been neglecting my body, leading to issues sleeping, focusing, and yes, meditating.
Want to enhance your meditation? Make sure you're honoring your body!
Tip: Integrate some version of this body practice into your day between meditations.
7. Learn from wisdom teachers. Listen to your inner teacher.
I define a wisdom teacher as someone who has:
experienced harm and failure and sadness and suffering,
developed the capacity to be present, even in the midst of the muck,
learned to respond to the world with kindness and compassion, and
shared the wisdom of their experience with others.
Listen to podcasts, read books, and honor the folks around you. You'll find a person or two who fit this bill – and in their story, you'll experience a resonance that invites you to become more present to your own.
Tip: Pay attention to resonance. When do you hear something from another that connects with your own story? What can you learn from this?
---
2023 Centering Prayer Summit – in two days!
Two of the wisdom teachers in my life, Phileena Nikole and Cynthia Bourgeault will be headlining the 2023 Centering Prayer Summit in a couple days. I highly, highly recommend you check it out – this is going to be a great event!