Kitchen Witch: Bakes for October
October has quite possibly the most celebrated pagan holiday, in the form of Samhain (Halloween). I love this time of the year, autumn is my favourite with the crisp fresh air first thing in the morning and the colour of the autumn trees. It is the end of summer and the third and final harvest of the year, a time when the veil between the worlds is at its thinnest, and a time to celebrate the lives of those that have passed and to remember and honour our ancestors. Oh … and eat lots of sweets.
Aside from all the Samhain goodies that will give us all a sugar overdose, foods for this season make me think of big hearty casseroles, home baked bread and stick to your rib puddings.
Here are a couple of my favourites from my new book (shameless plug) – Practically Pagan Cooking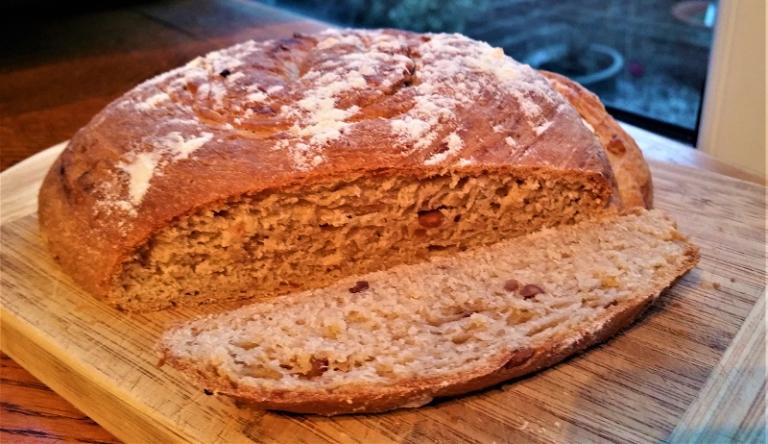 Peanut bread
This bread is scrummy (if you like peanuts…) and can be eaten as a sweet or savoury bread. Spread with just butter, jam or honey or cover in cream cheese. It is also delicious toasted.
500g/1 lb strong white flour
1 ½ teaspoon salt
7g/2 teaspoons quick action dry yeast
350ml/12 fl oz warm water
300g/10 ½ oz crunchy peanut butter
Put the flour, salt, peanut butter and yeast into a bowl, slowly add the warm water mixing until you have a dough. Leave in the bowl to rest for two hours.
Grease a baking tray. Knock the air out of the dough and mould into two sausage shapes, approximately 50cm/20 inches long. Roll them up into a coil, place them on a baking tray and leave to prove for one hour.
Preheat the oven to 400F/200C/Gas 6.
Dust each loaf lightly with flour and bake for 25 minutes.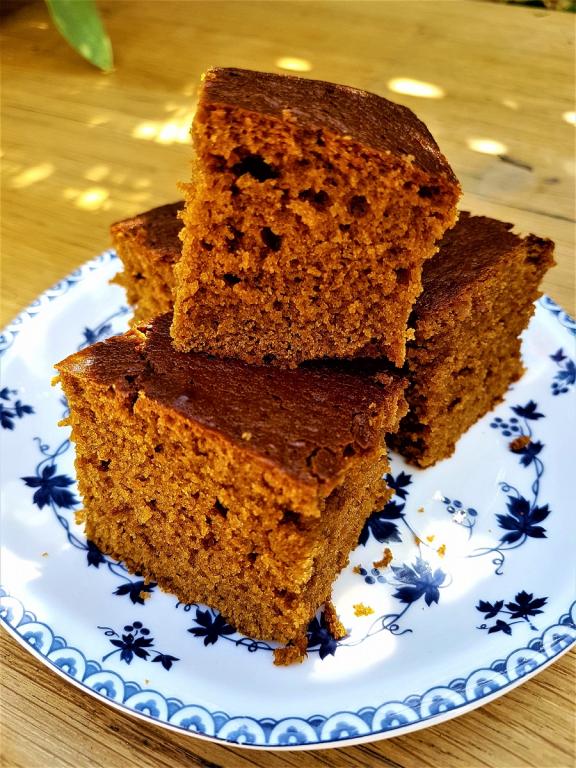 Gingerbread pudding cake
It is a cake…no, it's a pudding…whatever it is, I know it is lush!
Serve warm with custard, cream or ice cream.
Any leftovers are also nice eaten cold.
60g/2 oz butter
125g/4 ¼ oz golden syrup
100g/3 ½ oz plain flour (all purpose)
25g/0.8 oz self-raising flour
1 teaspoon bicarbonate of soda
1 heaped teaspoon ground ginger
Half a teaspoon mixed spice
100g/3 ½ oz caster sugar
Pinch of salt
125ml/4.3 fl oz milk
1 egg, beaten
Grease and line a 20cm square cake tin or a 2lb loaf tin. Pre-heat oven to 170c/gas mark 3.
Put butter and golden syrup in a saucepan and melt over a low heat, stirring occasionally, then remove from heat.
Sift both flours, the soda and the spices into a mixing bowl. Add the sugar and salt, give it a good stir, then add the egg and milk mixing until smooth. Gradually add the melted butter/syrup mix, stirring until well combined.
Pour the batter into the prepared tin and bake for 50-55mins until risen and firm to the touch. Allow to cool in the tin for 5mins before turning out onto a wire rack.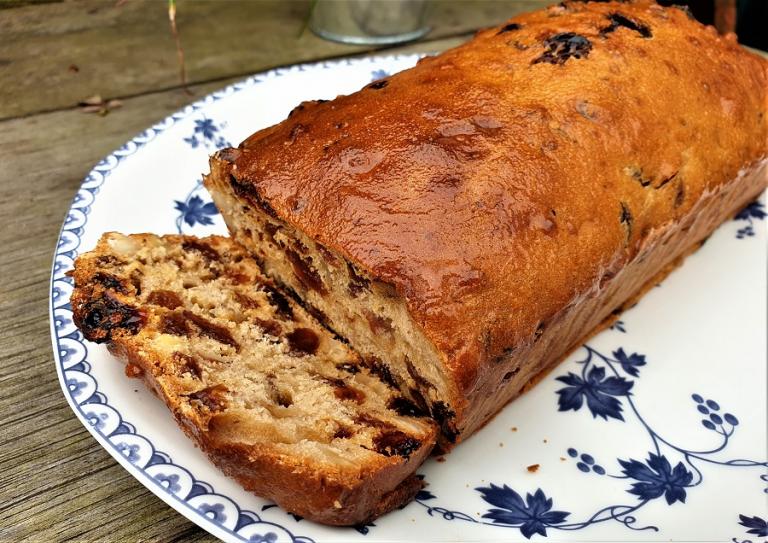 Irish barm brack fruit loaf
A really traditional sweet cake loaf packed full of all sorts of gorgeous dried fruits and flavoured with tea.
300g/10 ½ oz mixed dried fruit (sultanas, currants, raisins, candied peel)
200g/7 oz light brown sugar
250g/9 oz self-raising flour
1 cup cold strong black tea
1 egg
1 teaspoon mixed spice (cinnamon, clove, nutmeg)
Soak the mixed fruit in the cold tea for about 6 hours, overnight if you can.
Pre heat the oven to 180C/350F/Gas 4 and line a 1lb loaf tin with greased baking paper.
Mix together all the ingredients and pour into the loaf pan. Bake for 1 – 1 ½ hours or until cooked through.
Serve buttered.
Options
Ring the changes by using different types of tea such as Earl Grey or spiced chai.
Recipes from:
Publication 29th May 2020
​
A book to take you through the seasons. Cooking with produce when it is at its best (and cheapest). Recipes for all, with menu ideas to reflect the energy of each month of the year. Family style, no fuss cooking to nourish the body, spirit and soul.
12 sections with recipes for each month to reflect the product that is in season, which include; meat main, vegetarian/vegan main, soups, standard and vegan desserts, bread and of course…cake; both standard and vegan cake options.