(Originally posted here.)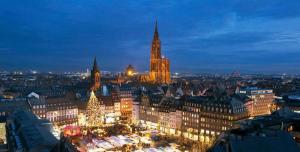 When the mission president announced to our small group of greenies that I was going to Strasbourg, I shrugged the resigned shrug of a missionary who knew nothing about anywhere but was willing to go anywhere. One of the sisters expressed jealousy; Strasbourg, she said, was one of the best cities in the mission. She was right, and it would not be a good thing.
Strasbourg is and was beautiful pre-Christmas. Several weeks passed before I fully acclimatized to the major time difference from the MTC, and the schedule of missionary life, but I loved Strasbourg almost instantly.
The eastern area of France bordering Germany is known as Alsace, and offers the best of both countries in terms of food, architecture, and other things. Parks are plentiful, the accent is easier to master, and doner kebab is cheap. Two wards meeting in an actual chapel with a basketball court were staffed by over a dozen hard-working missionaries who made me feel welcome as we did splits. My trainer, a stand-up guy, introduced me to the endless variety of bread, cheese, pastries, roasted chestnuts, and other delights as the weather cooled. On Saturdays, we played ultimate frisbee and soccer with other missionaries and ward members.
Things were happening in the ward; we had at least one solid person we were teaching regularly, who came often and participated more than some members. Work was hard, but had enough positive things going that I felt we had some energy. The ward choir we sang in was prepping some of my favorite classical Christmas music,  Es ist ein Rose entsprungen (or, D'un Arbre Séculaire, or, for the awful English title, "Lo, 'Ere a Rose is Blooming"), and I loved the tenor part. Life, it seemed, Was Good.
Then, shortly before Christmas, I was transferred to a two-man town in Belgium called Verviers (VERR-vee-ay). 45 minutes away from other missionaries in Liège, the little industrial ville seemed to border the arctic circle. My companion was depressed, having seen a missionary go AWOL to live with a French girl. The branch was small, dysfunctional, and met in a small but Mormon-feeling house. Mostly I remember a 10-yr old girl who liked to provoke missionaries, who closed the piano on my hands mid-hymn at least once. The mission president confided that he was considering withdrawing the missionaries and shutting it down. No choir sang. We tracted much, taught little, but one young couple with two small children always welcomed us. She was more friendly and sympathetic, but had lost all faith in God because of a miscarriage. He saw us as helping encourage his wife back into faith but was less receptive to us as missionaries. That was the highlight of our non-LDS contact.
Belgian architecture, in that area, consists of long narrow streets, with narrow sidewalks, and endless row houses of dark brick. The weather got colder, the heavens closed permanently for winter, and occasional dustings of snow on the ground quickly dirtied. From ground to sky, everything was despairingly grey. The transition from dim to darkness came around three each afternoon. To make matters worse, the APs, doing what middle management does best, misconstrued something the mission president said, and required everyone to wake up half-an-hour earlier every day to exercise. This somnolent curse would not lift for several months and achieved little but the creation of perfectionist guilt when, after a few half-hearted pushups, we'd fall asleep on the floor by the heater until 8 am.
While we had a few moments of levity and brightness in Verviers, such as a MoTab Christmas tape and our "Christmas tree" constructed from some pine branches found in the street, twined onto the drying rack, decked out by a few Belge Francs worth of Christmas lights, these were merely stars in a black night. It was the darkest period of my mission, literally, figuratively, and spiritually. My struggles went deeper than what I have enumerated here, and I think I cried some bitter tears. Never have I felt more like crying out "o God, where art thou?" "How long, o Lord, how long?" My temporal suffering in my Belge hell was all the worse for having previously been in French heaven. Better to start in the mission armpit and get transferred somewhere nice, than start at the pinnacle and establish that as the baseline norm for missionary life.Things didn't get much better until Spring began to dawn, and another transfer came.
In retrospect, it strikes me that temporary (and, as they were, shallow ) feelings of despair, abandonment, and futility may be some of the best preparation for appreciating the spirit of Christmas and the mission of Jesus the Messiah. Although my discomfort was largely selfish, my wounds hardly mortal, and my sins those typical of missionaries, the darkness lay upon me with an almost physical weight. From that gloom, I appreciated the glimmering hope of Christmas light and meaning, instead of merely being distracted by its cultural trappings.
Christ came, not to provide fleeting comforts or entertainments, but to "swallow up death in victory and wipe away the tears from all faces" and to "heal the broken-hearted and bind up their wounds."
Merry Christmas