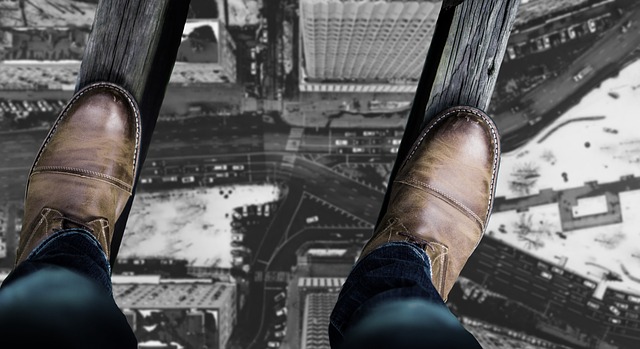 Did you ever feel that God was calling you to do something, but were too frightened to act? Most of us can relate to the transformation of a "great idea" into something that will "never work". While on the surface the culprit is generally a barrage of "what ifs", the underlying root cause is almost always fear. What begins as a powerful inspiration is ultimately cast aside because it "might not work". The number one reason we say "no" to God is FEAR!
If God Asks You To Do Something, There Will Be Risk
If the Lord asks you to do something, it will involve risk. He's not going to ask you to be reckless or irresponsible, but He will ask you to step out of your comfort zone. It doesn't matter if you're joining a new Bible study, saying grace in public or discerning the call to religious life, there is an element of fear involved. What if I fail or look stupid? What if I'm not qualified to do this? What if this really isn't coming from God? If we're not careful, obsessing over questions like these can easily stop us in our tracks.
What Can We Do?
So what is the best way to proceed? If it's reasonable (leaving your spouse to join a monastery is not reasonable!) and the desire persists after praying about it, I recommend you take the first step and go for it. The Lord has a great way of speaking through circumstances. If He doesn't want something to happen, He's not afraid to close doors. Several years ago, I was certain that I was called to be a permanent deacon, but it just didn't fall into place. Although I didn't know it at the time, the Lord had plans for me in lay ministry. In order for that to happen, however, I needed to take the first step. In doing so and encountering a closed door, God's will for my life became clearer.
Take The First Step!
As Joshua was about to lead the Israelites into the Promised Land, the Lord gave him a message for the priests. They were instructed to step into the Jordan River (Joshua 3:13) so that the waters could stop flowing and the people could cross. In order for this miraculous event to occur, they had to take the first step. Sure, there was risk involved, but they trusted and the Lord made good on His promise.
As you read this, you may feel God is calling you to do something. Before you dismiss it as unrealistic or too risky, consider the story of the Israelites and the Promised Land.
Are you willing to take the first step?
Like what you're reading? Click HERE to get BE NOT AFRAID with GARY ZIMAK delivered to your inbox each day for FREE!