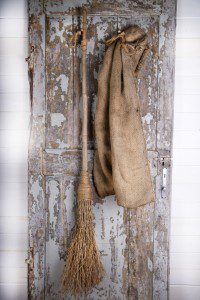 There's a great opportunity coming up for magicians and witches in the northern hemisphere this weekend!  Imbolc falls quite close to the full moon this year.  Traditionally the Imbolc Sabbat is the time for Wiccan initiations; and also, it's the time when we re-enchant our ritual tools.  Imbolc symbolizes renewal, and it has some roots in the Christian celebration of Candlemas.  In North America we maintain a tiny fragment of the original meaning with our secular observation of Groundhog Day.  For those of you who do not celebrate the Year-Wheel in this way, the first hints of spring surely make it a great time to re-consecrate your tools anyway. With the full moon just around the corner we have a chance to take advantage of both energies to give our tools a magical "power-up."
P.S.: Happy Lughnasadh to those of you in the southern hemisphere!
You will need:
The tools to be re-enchanted.
A pentacle or a holy symbol to your deity of choice.
Three white candles (tip: they are to be left to burn for a time, so tea lights or votives would probably work best).
Whatever your tradition uses as a sacred substance to bless tools: Wiccans use the four elements (salt, water, incense, and the flame of a candle) but other options might include Florida water, anointing oil, sacred herbs, tobacco, corn meal . . . there are many choices depending on spiritual path.
February 1st:
At twilight, light one of the candles.  Cleanse your tools with: salt and water, anointing oil, smudge, frankincense, blown tobacco smoke, wine . . . whatever you deem to be appropriate.
Find a place that is clearly open to the night sky, in the east where the moon rises.  Good: a windowsill with a clear view of the place on the horizon where the moon rises.  Better: a high spot open to the night sky, such as a balcony or apartment roof.  Best: the crux of a tree or a craggy mountain peak.  Lay your tools out there to absorb the moonlight.  As you do so, make a statement of your intent and ask for your deity to bless and consecrate your tools in a manner appropriate to your path.  I use the following:
Brighid, Goddess of the hearth
This is the season of rebirth
So once again I call on You
To bless and consecrate my tools
By the power of three times three,
As I will, so mote it be!
Allow your tools to charge there overnight. Leave the white candle on your altar or hearth and if at all possible, allow it to burn out naturally.  (Tip: if you want to leave the candle burn but are afraid to leave it unattended, put it in a metal pot that is on a stable surface, or put it in your sink).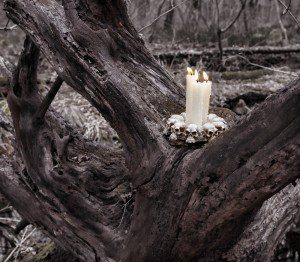 February 2:
Optional: recover your tools at sun-up and bring them in to assure that only moonlight touches them.  If you use this method, replace the tools after sundown and before moonrise on the evening of the 2nd.
Go back to your tools and light another white candle.  Repeat your statement of intent.  Leave the tools again and return this candle to your altar as well, also allowing it to burn out naturally.
February 3 (Night of the Full Moon):
Optional: recover and replace your tools again if you don't want sunlight to touch them in the enchanting process.  For some people this is important.
Go back to your tools, light the third white candle, and repeat your statement for the third time; this time with the symbol you've chosen to represent your deity touching the tools (or each of them in turn).  Leave them overnight one last time, again allowing the candle to burn out naturally on your altar.
February 4:
Recover your tools at sun-up (or as early in the morning as possible) and place them on your altar or hearth until sundown that evening.  Your tools are now re-consecrated, cleansed, charged, and the link to you has been re-established through your hearth or altar.
I hope this turn of the Wheel brings you happiness and success in your magickal workings!