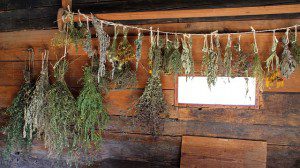 Here's my next episode in my instructional spellcraft series Sit for a Spell.  You can find the entire playlist here, and I will probably be posting back issues every now and then when the mood strikes me.
Episode 20: "Drying & Storing Herbs" – Continued from the previous episode (Lawncrafting), Sable demonstrates how to dry and store herbs, cautions you against some of the pitfalls, and recommends a few books.  Copyright (c) 2015. All rights reserved.
For more information, see Sable's website: http://www.sablearadia.com.
Theme Music: "Piano Hollow Night" by TechnoAXE. Used by permission.  Photos copyright (c) 2015 by Jennica Duncan and Sable Aradia. All rights reserved.  Animation by Animoto.
---
I'm creating a Patreon account for those who'd like to consider being my patrons.  Thanks for your support!
Like Between the Shadows on Facebook and never miss a post!