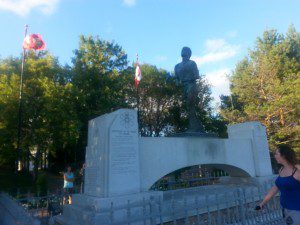 Quest for Canada is a new series of articles that will appear alternately in both my Witches & Pagans column 49 Degrees and my Patheos blog Between the Shadows.  It will be published once a week in an alternating schedule between the two blogs.   Links will be provided in both blogs.
I believe in new gods as well as old gods.  When you invest spiritual and emotional energy into a concept, it acquires its own egregor; and when enough people do it for long enough, it develops a very powerful egregor.  Most of my readers will have heard of Lady Liberty, or the American Dream.  Simon and Garfunkle wrote
a beautiful song
about searching for the spirit of America, which was remembered recently in a political campaign ad.  I, as a Canadian, went in search of the spirit of my own country, Canada.
---
Like Between the Shadows on Facebook and never miss a post!