On our last day in Dublin, after giving some lectures for the Irish Bible Institute, they took us out to dinner, and we say 'the spire of Dublin', sarcastically called the Needle, since this part of Dublin is where a good deal of the drug trade happens.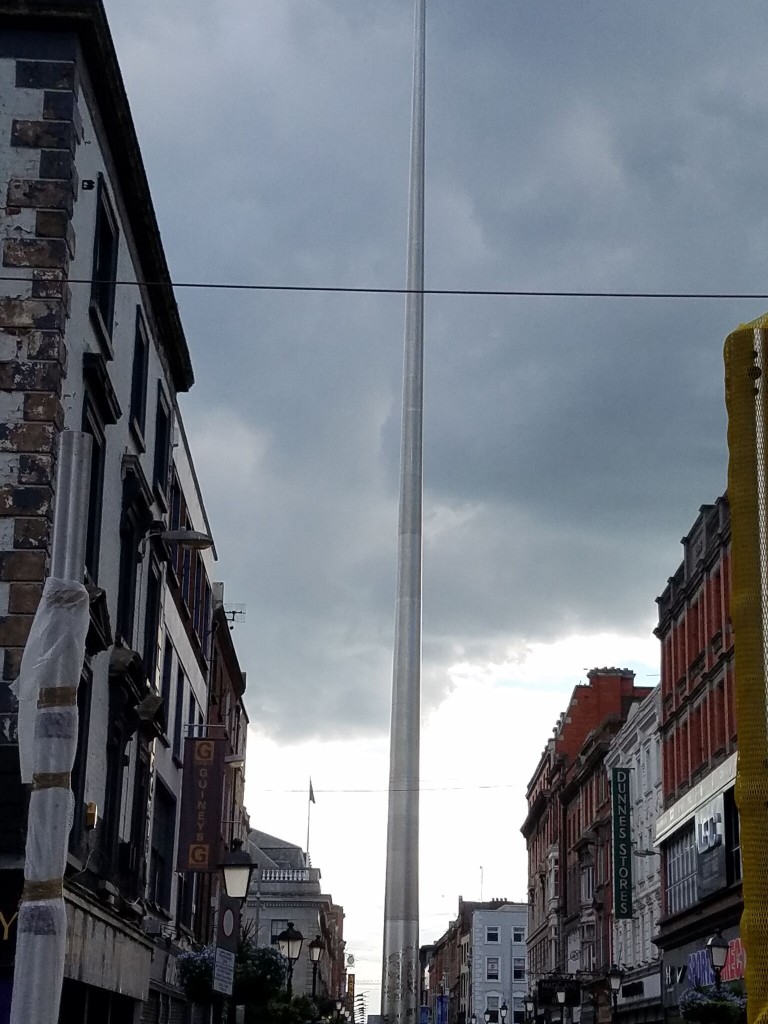 The spire seems to be right in the middle of an intersection at first glance, but really it's in a square. It's proper name is the Monument of Light and it is a 390 feet high piece of stainless steel. It replaced Admiral Nelson's pillar which was on the same spot. It was erected in 2002-03, to mixed reviews. It was part of a general urban renewal of this part of Dublin which badly needed it. I'll let Wiki tell you some of the more detailed stuff…
"It is an elongated cone of diameter 3 m (9.8 ft) at the base, narrowing to 15 cm (5.9 in) at the top. It features two tuned mass dampers, designed by engineers Arup, to counteract sway. The steel underwent shot peening to alter the quality of light reflected from it.
The pattern around the base of the Spire is based on a core sample of rock formation taken from the ground where the spire stands and the DNA double helix. The pattern was applied by bead blasting the steel through rubber stencil masks whose patterns were created by water jet cutting based on core sample drawings supplied by the contractor.[10] The design around the 10 m (33 ft) lower part of the Spire was created by the architects making a 3D pattern model combining the core sample and double helix and then digitally translated to a 2D image drawing supplied to the contractor and used by specialists for cutting the masking material.
At dusk, the base of the monument is lit and the top 10 m (33 ft)[9] is illuminated through 11,884 holes through which light-emitting diodes shine." (https://en.wikipedia.org/wiki/Spire_of_Dublin).
One thing that apparently was not factored in. They expected the spire to reflect light during the day. This is assuming there would be decent sunlight during the day. On many days in Dublin—- not so much. For instance, see the picture I took, above.