In 1873, Louisville, trying to improve the visibility and status and commerce of its city held a gigantic Southern Exposition. This continued to happen well into the 1880s, and the piece of land at which the giant exposition building was built (see below)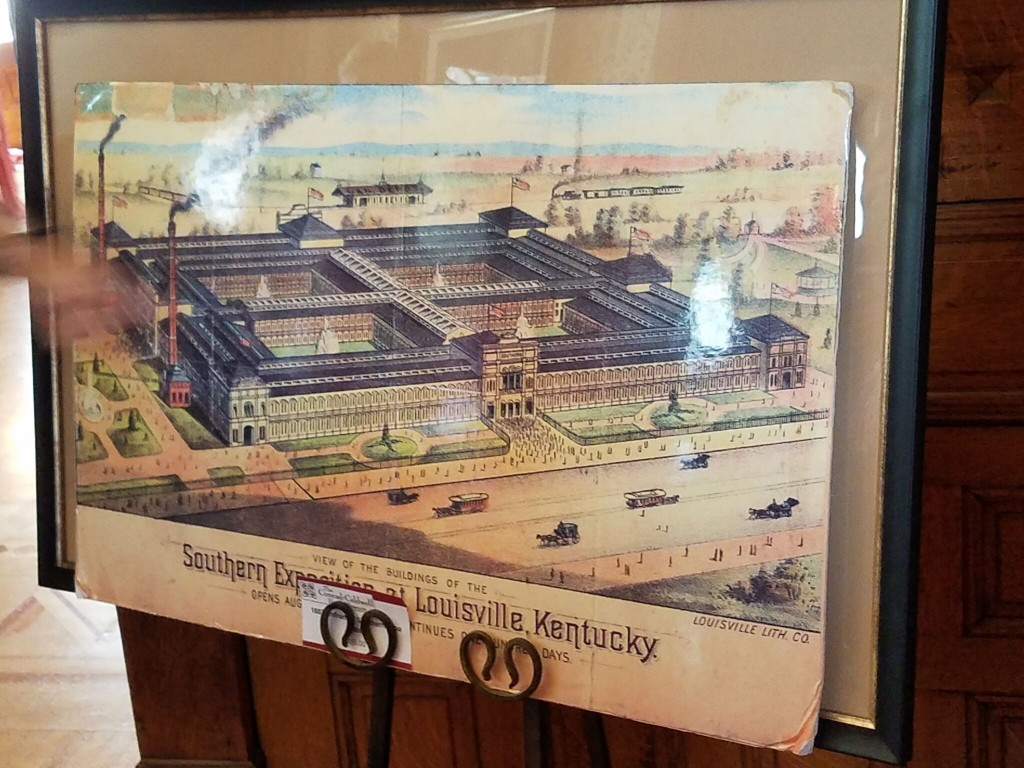 was in due course turned into stately homes of the Victorian sort. We went to see the neighborhoods of St. James Court and Belgravia Ct. in eastern Louisville, and in particular to go and see the Conrad-Caldwell house, which is the one that has been turned into a museum, whereas the other houses are private residences. So first a few shots of the streets and houses of these two courts, houses built between about 1892 and 1904.
While St. James Court has streets one can drive on and a beautiful median with trees and fountains down the middle, Belgravia Ct. can only be walked down. Here is a glimpse of the tree-lined street
Yes those are gas lamps and at least some of them still work. You may remember that Thomas Edison lived here, and his light bulbs first went on public viewing at the Louisville Exposition, and the first electrified house in this whole state was the Conrad-Caldwell house. Here is the beautiful fountain in the middle of St. James Ct.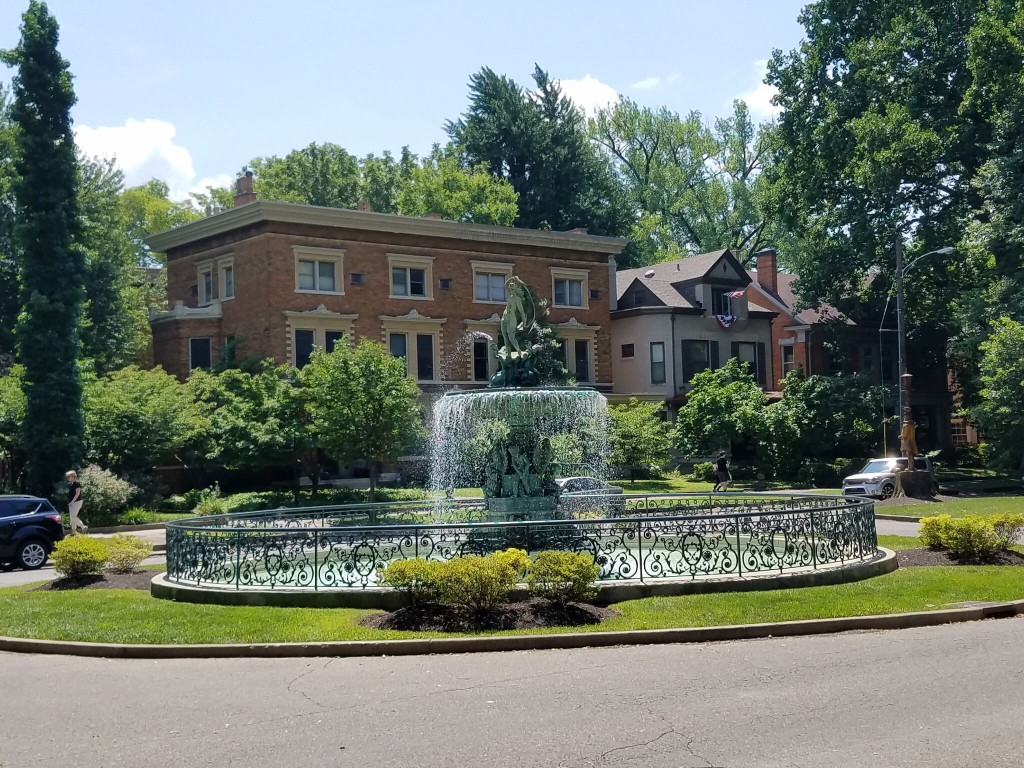 This is a shot down Belgravia Ct.which only has side walks and a median, no streets,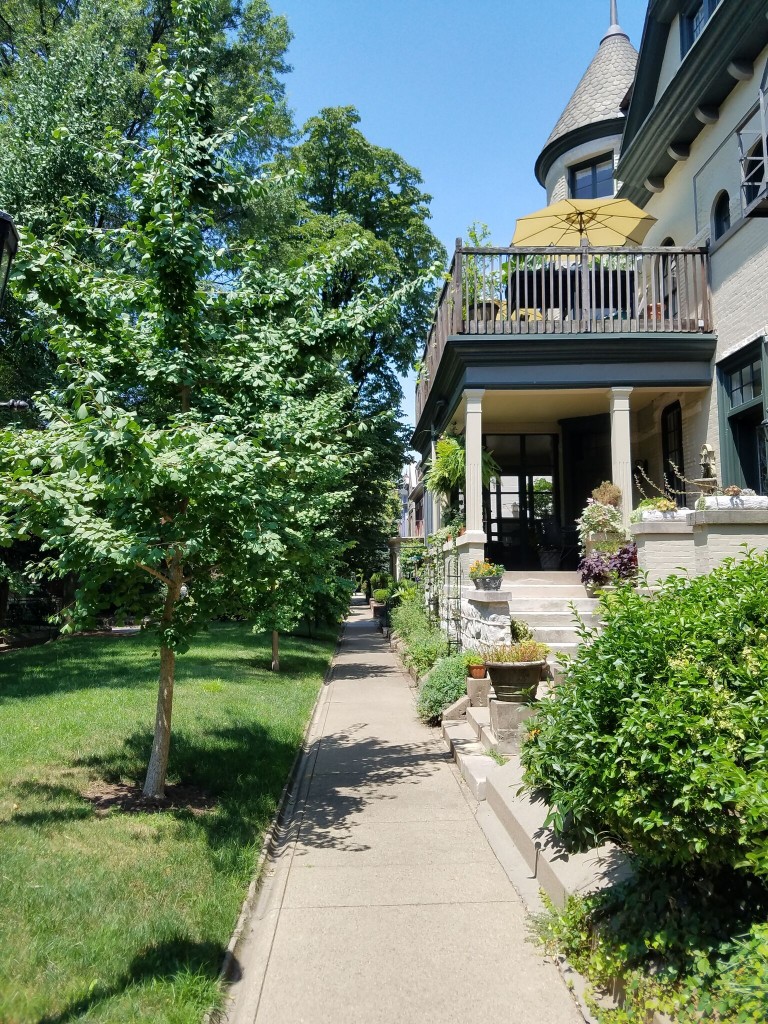 One of the favorite attractions in the median of St. James Ct. is the lamplighter. There are many huge old oak trees on these streets, and one of them had to be cut down, and someone had the clever idea of creating a statue of a lamplighter, like the man who originally did go up and down these streets lighting the lamps at the beginning of the 20th century.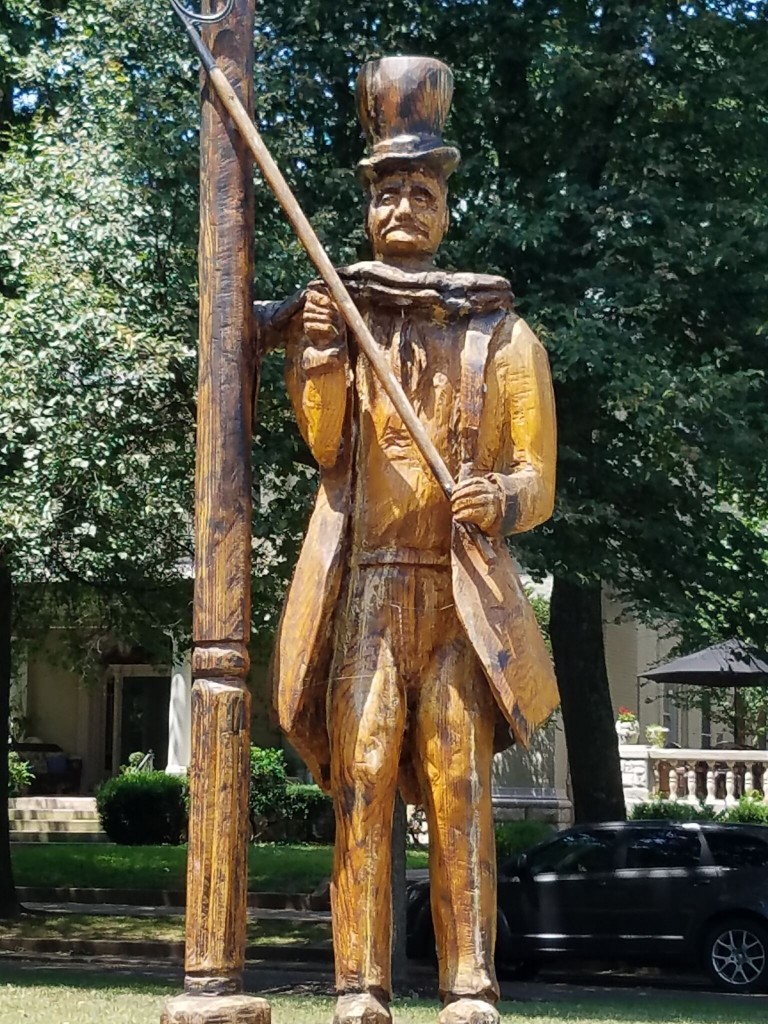 In this post we have room only for one house shot on the corner of Belgravia and St. James and the story behind it is rather hilarious.
Behold the pink house…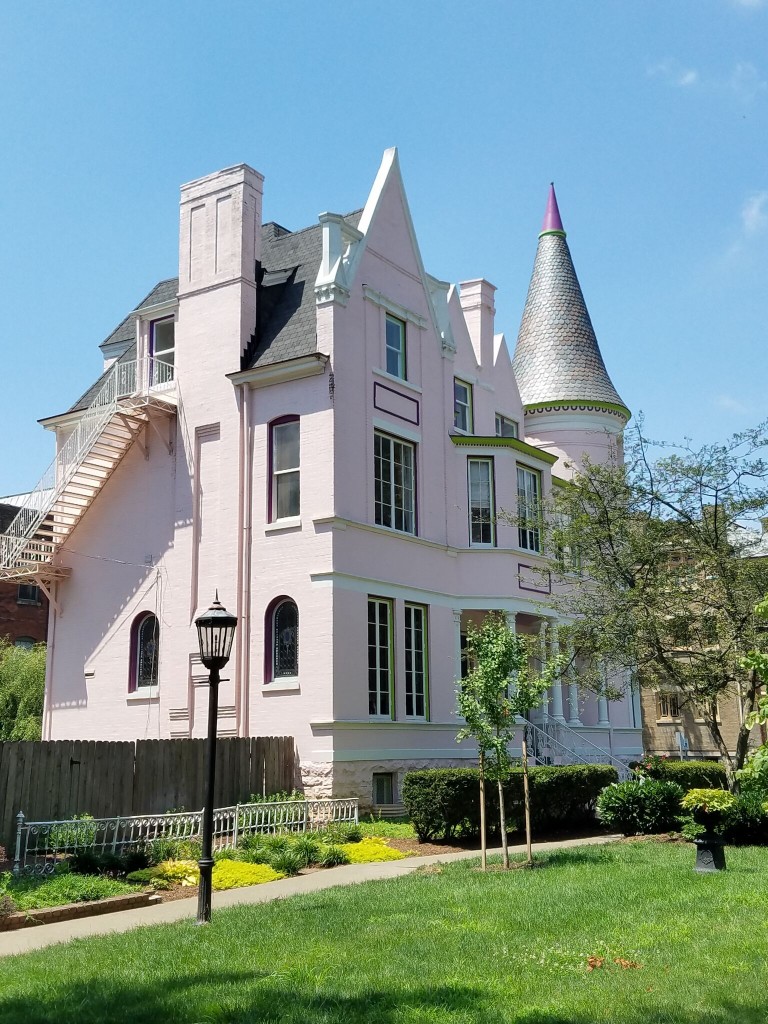 This was originally a bordello to service the wealthy men of these two adjoining neighborhoods, but the proper ladies of the neighborhood were quite rightly scandalized that there should even be such a place in their neighborhood. So…. they organized a painting party, and the next thing you knew the whole house was painted pink, and became the laughing stock of the area. The ladies of the night slowly slipped away, and moved elsewhere to avoid further scandal, and this house was sold to a private individual. BTW, its for sale again, and to judge by the for sale sign on a house just down the street from it, they will be asking at least a cool half million dollars for the privilege of living in a former bordello. Such was life in Old Victorian Louisville in the neighborhoods of the rich and famous.