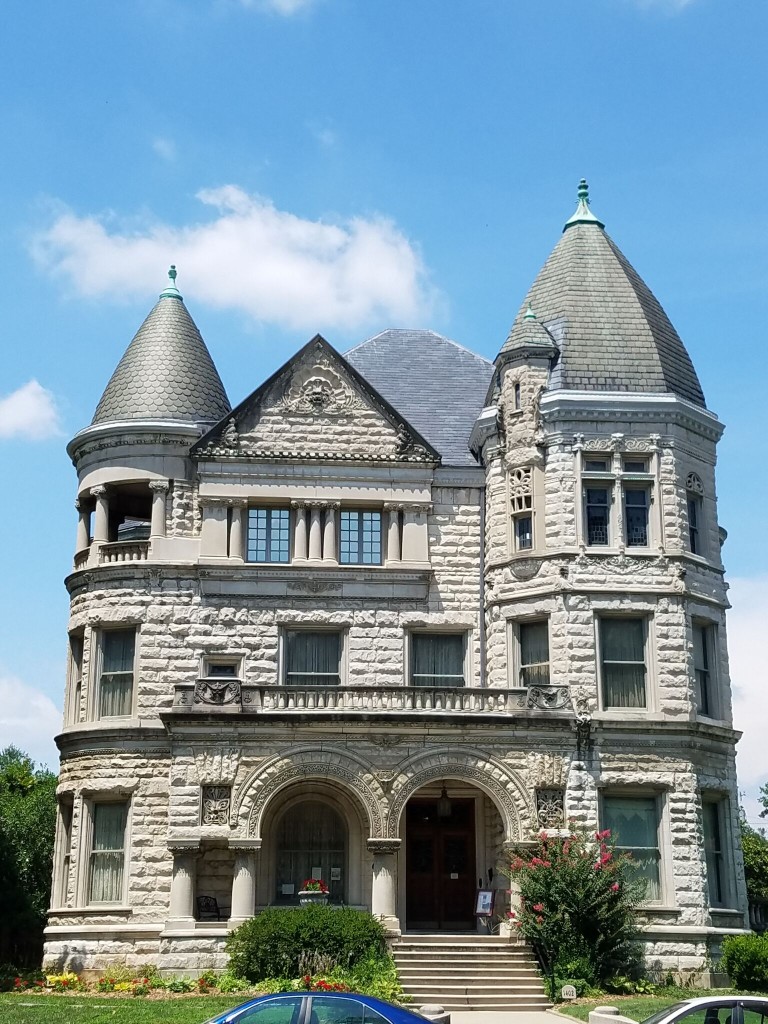 Sitting on the corner of St. James Court, at its very entrance way, is the Conrad-Caldwell House. Here, according to the website, is its history….
"Surrounded by a beautiful courtyard neighborhood at the center of the largest collection of Victorian Homes in the US, "Conrad's Castle" featured all the latest innovations of its day, including interior plumbing and electric lighting. Known for its beautiful woodwork and parquet floors, this massive Bedford limestone home, covered with gargoyles, beautiful archways, and elaborate stone designs, incorporated 7 types of hardwoods and magnificent stained glass windows in the interior design, making it one of the most stunning homes in Old Louisville.
The Museum has been lovingly restored to the Edwardian Age, housing a massive collection of period items including many original pieces, and stands as a testament to the abundant lifestyle of the owners, two of Louisville's most prominent businessmen and entrepreneurs, Theophile Conrad and William E. Caldwell. Step back in time as you learn more about the era, the neighborhood, and the families who lived here.
At the time of his death, the Louisville Courier-Journal named the patriarch of the Conrad family, Theophile, "one of the best known businessmen of Louisville," as well as, "one of the wealthiest men in Louisville." These titles were befitting of a man born into excellence, and who strived to maintain that quality in every aspect of his life. Born in Strasbourg, France in November of 1832 to a wealthy glue manufacturer, Martin Conrad, and his wife Carolyn, Theophile grew accustomed to in the family's large, moat-encircled house. Theophile's mother died when he was an infant, and at the age of six, Theophile welcomed a stepmother into his family. In 1846, Martin Conrad and his new wife moved to America to join Martin's two brothers in Louisville, Kentucky, thus leaving Theophile behind to apprentice with a tanner in Paris. This decision would serve as the beginning of Theophile's own successful and independent career.
After earning his Master Tanners Certificate, Theophile traveled through Europe and America for a few years, eventually settling in Louisville with his family. He worked as a tanner with his uncle, who introduced Theophile to his wife, Mary Anna Krieger, whom he called Marie. The pair married in 1857 and would go on to have seven children, four of whom lived into adulthood: Mina, Lucile, Carrie, and Emma. In 1859, Theophile built the Conrad, Fabel, and Mooney Tannery, and eventually became the sole owner in 1895. Using the income from the tannery, Theophile and Mary Conrad began purchasing land from the Victoria Land Company on St. James Court, on which they built a veritable castle, reminiscent of the opulence of Theophile's childhood home. The family moved into their completed home in 1895. Theophile used his house as an office for his many businesses and boards with which he associated, including the Third National Bank, Conrad and Kamerer Glue Co.,and real estate holdings throughout the city, which included apartments, hotels, and warehouses. While he conducted business, Marie played hostess to many guests in their luxurious home, including their daughters who moved away as they grew older and married.
In February of 1905, Theophile suffered a heart attack, and died in his home at the age of 73. His excellence in the tanning business left him with great wealth including extensive real estate holdings, which he divided between his wife and four surviving daughters. In 1908 Mary Conrad sold the house to their friends, the Caldwells. Interestingly, this sale marked the second time the two families took part in a real estate deal. In 1894 the Caldwells purchased the Conrad's home on 2nd Street, allowing the Conrads to move into the opulent mansion on St. James Court.
William Caldwell was born in upstate New York in 1858. After his father died and his mother contracted tuberculosis, William and his younger brother were sent to live with various relatives. Eventually, William attended Cornell University and later studied with a professor of engineering at Northwestern University. He married Elaine Ray in Chicago in 1883 and they moved to Louisville in 1887. William came to Kentucky to rebuild the Hermitage Distillery and soon branched out into building water tanks and their elevated towers. He patented a process by which tanks could be made in different shapes. His firm, W.E. Caldwell Company, now known as the Caldwell Tank Company, later created such familiar works as the Slugger Bat at the Louisville Slugger Museum, the bourbon bottle atop the Brown-Forman Distillery and the Mickey Mouse Ears at Disney World.
William and Elaine had two children, Walter born in 1885 and Grace, born in 1889. Grace contracted Scarlet Fever at the age of 8 which left her completely deaf by age twenty-one. Walter followed his father into engineering and, later, the Caldwell Tank Company. He married Gertrude Amanda Brownell and they welcomed two children, Virginia and Gordon. Grace married Vincent John Hall in 1913 on the steps of the grand staircase. Vincent died of pneumonia in 1924. He and Grace had no children and she never remarried.
Much like Theophile Conrad, William Caldwell had become one of Louisville's wealthiest residents by the time he bought the house in 1908. The Caldwells were well acquainted with the Conrads, having rented their home on Second Street when the Conrad's built their home on St. James Court. The house was purchased fully furnished, but the Caldwells decided to redecorate before moving in. Elaine and Grace enjoyed buying trips to Europe where they found inspiration for the changes in the house. Additionally, they hired an interior designer from New York and, with the assistance of local design firm Bittners, by 1908 had created the look of the house you see today.
Elaine died in 1925. William remarried in 1930 and continued to live in the house until his death in 1938. Walter and Grace sold the home in 1944 to Vesta Lasley who operated a boarding house, primarily for female University of Louisville students and faculty. The Presbyterian Church purchased the house in 1948 and established the Rose Anna Hughes Home for Widows where it functioned until the mid-1980s when it outgrew the space. Residents on St. James Court purchased the house in 1987 and established the St. James Court Historic Foundation to run the house as a non-profit museum."