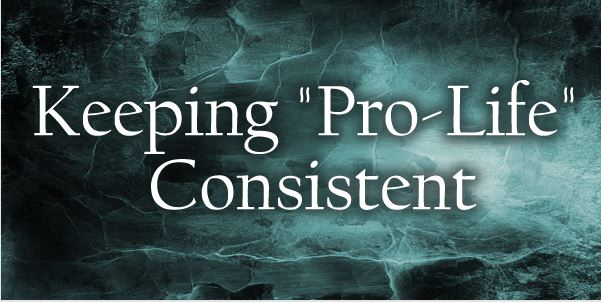 This week thousands came to Washington D.C. to march to defend the rights of human beings of all shapes and sizes as part of the annual "March for Life" rally. While I was living in D.C. I had the privilege of seeing this group converge every year. It was a remarkable sight to behold. I still count going to Mass in the Basilica of the National Shrine of the Immaculate Conception with all the marchers as one of the most profoundly moving moments of my life.
While much of the energy of the March focuses on the issue of abortion, the pro-life movement it represents includes many who are consistently pushing for policy-makers to be consistently pro-life across the board. This means opposing all practices that take away human life unnecessarily. This means many of these people believe that being Pro-life means one should not only view abortion as a serious wrong, but should also oppose the use of the death penalty and should take a strong stance toward avoiding the violence of war whenever possible. These pro-lifers are engaged in helping preserve the life and dignity of people which are often marginalized and forgotten. In our society these people are too often the immigrants and the poor of our world.
Being pro-life is a robust position if taken seriously and constantly. It helps form the conscience when addressing our own perspectives on issues ranging for economics to foreign policy. I wish there were more policy makers who were able to stand up and defend both the unborn child and the unwed mother. I wish there were more who preserved life crossing the birth canal AND life crossing the Mesilla canal.
This is why I am honored to have been a co-signer on a letter sent to congress this week urging them to be consistently pro-life on the issue of immigration reform. I have included the text of the letter below. You can read it with the over 100 signatories here. Please let your member of congress know that you care about immigration reform and that you would like them to approach the votes they take with a consistent pro-life attitude. Here's what the letter said:
As Catholics committed to building a culture of life, we write to urge our fellow Catholics in Congress to support the U.S. bishops' effort to pass comprehensive immigration reform. Our nation's inhumane and flawed immigration policies leave migrant women, children and families abandoned by the side of the road. As Cardinal Séan O'Malley put it in a homily at the US-Mexico border last year: "We know that the border is lined with unmarked graves of thousands who die alone and nameless." Immigration is "another pro-life issue," the cardinal reminds us, echoing our Holy Father Pope Francis, who views abortion, extreme economic inequality and the death of migrants as part of a "globalization of indifference" and a "throwaway culture" that treats human beings as disposable.

There are more than two dozen pro-life Catholics in the House of Representatives. Many of them will join thousands of people of faith, including some of us, at the March for Life in Washington later this week. As brothers and sisters in faith, we urge these elected officials and all Catholics to defend the sanctity of human lives at all stages. We recognize the image of God in the migrant at the border, in the prisoner on death row, in the pregnant woman and in the hungry child.

The immigration crisis will not be solved by threats to shut down government agencies, enforcement-only strategies or piecemeal approaches. Breaking up immigrant families and denying protection to those fleeing gang or cartel violence, as just one example, is neither a humane or effective strategy. Comprehensive immigration reform that would create an earned path to citizenship for those in the shadows, expedite family reunification, strengthen refugee protection, and address why desperate people reluctantly uproot and cross borders, deserves a vote now.

Delay and partisan bickering will only lead to more hardship, suffering and death.
I hope you will all join me in helping bring this very live and active legislative issue to a vote as soon as possible. And join me in praying that justice would prevail for the thousands who suffer unjustly today under our current system.
God bless you!