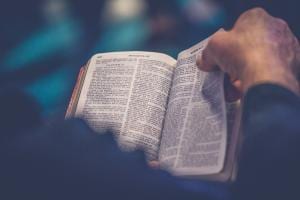 Culture is contagious.
There was a recent study that was done that showed one of the best determinants of performance in the workplace was one's proximity to others. The closer your desk was to a high-performing superstar the more likely your own results would be better, your time would be spent more productively and your end of year "numbers" would improve. The converse was true as well. The closer you were to people with bad attitudes the more likely you were to adopt a bad attitude yourself. We can catch the culture of others. We can catch culture in so many ways. We can catch it in the people we surround ourselves with, the things we watch, the stories we read and even in the ways of thinking we entertain.
This is one of the reasons scripture is such an essential part of Christian life. When we open the Bible we allow the wisdom of God to come near us. We begin to hear God's story. We let the heroes of faith sit near us in our lives and we let God begin to tell us who we are and why we are here. The Holy Spirit, who inspired the scripture, also illuminates our hearts.
Hearing the story of God in scripture helps us keep our lives open to the story of God in our world today.
Lord,
We thank you for giving us the scriptures.
Open our hearts to hear your story each day as we read your word.
Open our hearts to live your story each day as we live our lives 
We ask this through Christ Jesus, The Word Made Flesh.
Amen