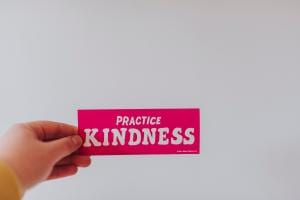 I have a friend who has made it a mission to practice random acts of kindness.
It's like a special game to him and it's a joy to watch. Often when I see him he'll tell me about how much fun he just had buying coffee for everyone in line behind him or how the gas station attendant reacted when he showed up with a bucket, sponges and a toilet brush and started to deep clean the public restroom.
My friend is a man of practical faith. He believes that God is at work all around him. He believes that there is no person he meets that God hadn't met first.
Because he believes in a God that's at work he's willing to live a life of indiscriminate kindness and generosity. He knows that nothing that is sown in love is wasted. I love spending time with this guy because he inspires me to live life with indiscriminate kindness and generosity too.
Colossians 3:12
Therefore, as God's chosen people, holy and dearly loved, clothe yourselves with compassion, kindness, humility, gentleness and patience.
---
Action for Today
What are some ways that you can think of to live with indiscriminate kindness and generosity?
How do you think you could put some of these ideas into practice in your daily life?
Bonus Challenge: Choose one thing from the discussion that you think you can do in the next day or two. Make a plan and do it!
---
Advent Action Guide
This is an entry in my Advent Action Guide which will be featured all Advent long.
If you're interested in downloading a copy or signing up for daily emails for the rest of the season fill out the form below: