I grew u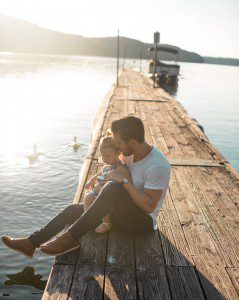 p in a Christian family. As a child, I loved this time of year, because every night during Advent my parents would tell me stories. They would tell me the stories from the Bible that spoke of God's commitment to rescue the world. They told me about people like Abraham who believed God and left all he knew to pursue a promise. They told me about Moses who trusted in God's word enough to lead a people to a land that he himself would never get to enter. Each night we learned more about God's story and the stories of those who entrusted their whole selves to walking with God.
I also loved it because my parents would often share stories of faith in their own lives. Both my mom and dad had changed their lives at key moments in response to what they believed God was doing and how they believed they could best respond.
Those stories were even more powerful to me. Hearing about a God who touched the lives of people I knew helped me to believe that God might be able to come near me and help direct my own life.
When I have faced challenges of my own, knowing the living stories of faith of those close to me has helped me to live out my own faith with confidence.
Hebrews 12:1a
Therefore that we are surrounded by such a great cloud of witnesses let us throw off everything that hinders.
---
Questions for Today
Can you think of any stories in your life where your faith helped you make a decision?
What are some stories of faith that have helped to inspire you in your life?
---
Advent Action Guide
This is an entry in my Advent Action Guide which will be featured all Advent long.
If you're interested in downloading a copy or signing up for daily emails for the rest of the season fill out the form below: