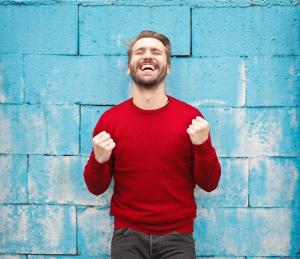 Yesterday we talked about how the biblical understanding of joy is rooted in the way that we act in the world. Joy is deeply connected to hope. You might even say that joy is what happens when we put our full strength into living a lifestyle of hope.
Living joyfully is not always easy. I find that I have to practice joy. I have to work at it. It has to be something I build into my life with intention.
It's normal to get knocked down, and to fail. When this happens, those who live with joy get up, dust themselves off and get back to living out their hope. This is one of the reasons I am grateful for my faith.
I believe that there are times in my life where, on my own, I would be unable to muster the joy I need to get back up and work again. But I am not alone. God is working with me and that joy is something that God can produce in me, even when my circumstances seem anything but joyful.
I am reminded of the message from Galatians chapter five. Joy is a fruit that is produced by the spirit. Sometimes when joy is hard to produce on our own we need to turn to God's spirit to grow his life of Joy in us.
But the fruit of the Spirit is love, joy, peace, forbearance,
kindness, goodness, faithfulness, gentleness and self-control. Against such things there is no law.
Galatians 5:22-23
---
Questions for Today
When has joy rescued you from a failure or struggle?
When has an unexpected joy surprised you?
---
Advent Action Guide
This is an entry in my Advent Action Guide which will be featured all Advent long.
If you're interested in downloading a copy or signing up for daily emails for the rest of the season fill out the form below: