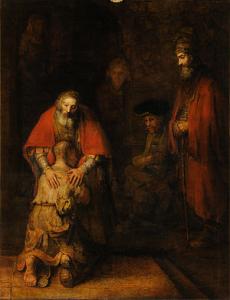 Every morning at The Hope Clinic, we gather in prayer. It is a time to set our hearts back on God and to remember the big story of what God is doing in the world. This is an important time of the day for me.
During our morning prayer we often read a Psalm together and pray for programs or events happening that day or week at Hope. We lift up specific intentions that have been raised by volunteers, clients and supporters, and anything else that is on our hearts. I have one prayer that I offer in my heart every week. It is very simple. I pray, "God give me the heart of the prodigal's father."
The story of the prodigal son is found in the Gospel of Luke, chapter 15.
In the story, a man has two sons. The youngest one tells his father that he wants to have his inheritance early; essentially telling his father he wished he was dead. The father gives the son his inheritance, which the son takes and wastes until he is living in poverty. Ruined and destitute, the son decides to return home and to beg his father to receive him as a hired servant.
Humiliated, the son travels home and as he approaches, his father sees him. There's a line that haunts me, describing what happens next. Jesus tells us in verse 20 that "while [the son] was still a long way off, his father saw him and was filled with compassion for him; he ran to his son, threw his arms around him and kissed him."
The father sees him from "a long way off." This means that he's been waiting and hoping. This is a father who has been scanning the horizon every day. He is driven by hope and by love, and when his hope is realized he is filled with a joy which is lived out in radical generosity and hospitality.
I want to have this heart. I need this heart.
My daily prayer is that God would give me that heart, God's own heart, so that I can care for those in my daily life with that kind of love and hope.
---
Questions for Today
What is one way you have experienced God's "hope filled heart"?
What is one way you can model God's heart to those in your own life?
---
Advent Action Guide
This is an entry in my Advent Action Guide which will be featured all Advent long.
If you're interested in downloading a copy or signing up for daily emails for the rest of the season fill out the form below: