Peter approached Jesus and asked him,
"Lord, if my brother sins against me,
how often must I forgive him?
As many as seven times?"
Jesus answered, "I say to you, not seven times but seventy-seven times.
Mt 18:21-22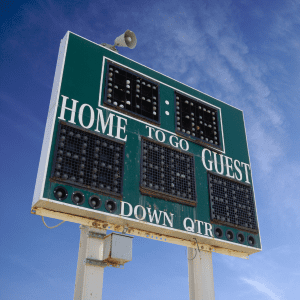 Are you competitive?
I have to confess I am. There are few things I like more than winning. I regularly have to remind myself that there are some things in life where there doesn't need to be a winner. In the passage today Jesus tells us that when it comes to forgiveness if we're keeping score we've already lost.
Peter is like me. He wants to keep track of how he's doing on forgiving and he wants to have a clear idea of how much forgiving he has to do to "win" – asking if forgiving seven times would be enough. This was actually more than twice what the Rabbis at the time demanded (which was only three times).
Jesus responds saying instead seventy-seven. This is designed to break Peter's paradigm. Jesus is trying to show that Christian forgiveness should be done without keeping score. We are called to reflect the mercy of God – who offers forgiveness freely and infinitely. To keep a tally is to deny the pattern of God's heart. When we keep a record we close the book on grace and have already lost.
---
Question for today
Is there a scorecard in your life God is calling you to rip up?