by John Schmalzbauer, Missouri State University
(Earlier this week, Jerry Park explored the fascinating role of basketball in the lives of second-generation Asian Americans.)
More than any other player, Knicks superstar Jeremy Lin connects the game of basketball with its religious origins. Christened the "Taiwanese Tebow" for his outspoken evangelical Christianity, Lin would make basketball inventor James Naismith proud.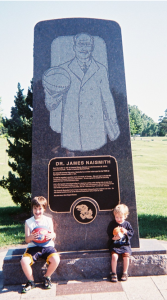 The story of Naismith's peach baskets is a well-told tale. So is Lin's religious testimony.
Less obvious is the connection between Naismith's "muscular Christianity" and the campus ministry that nurtured Lin during his years at Harvard University.
An ordained Presbyterian minister, Naismith studied theology at Montreal's McGill University. There he encountered North America's first YMCA chapter. Convinced that "there might be other effective ways of doing good besides preaching," he took a position at the International YMCA Training School in Springfield, Massachusetts. Influenced by the legendary Amos Alonzo Stagg, he joined the school's football team. Before each game, Stagg prayed for "God's blessing on our game," though not for victory. He also put Naismith at center because he could "do the meanest things in the most gentlemanly manner."
During the winter of 1891, Naismith developed the game of basketball as a way of engaging a group of restless young boys. From there it spread across the United States, borne by the networks of the YMCA. While largely focused on working-class youth, the Y also became the largest campus religious organization in the USA. According to historian George Marsden, one-fifth of college men belonged to the YMCA in 1905.
What does all this have to do with Jeremy Lin? As an undergraduate, Lin participated in an Asian American chapter of InterVarsity Christian Fellowship. In 2010-2011, InterVarsity attracted over 36,000 students. Forty-four percent were ethnic minorities, reflecting a commitment to "ethnic reconciliation and justice" and the growing participation of Asian Americans.
Like the YMCA, InterVarsity was founded in England before migrating to Canada and the United States in a campus ministry British Invasion. During the thirties and forties, it helped fill a hole left by the decline of the collegiate Y.
Though InterVarsity's leaders thought they were "pioneering a new thing," its origins can be traced back to the Cambridge Inter-Collegiate Union, an outgrowth of the same international Christian student movement that produced the YMCA. In other words, Naismith and Lin have common roots.
InterVarsity is rightly proud of its famous alumnus, posting a Jeremy Lin Valentine on its Facebook page. Other evangelical athletes have reached out to the young star, who now sports an "In Jesus Name I Play" bracelet.
Somewhere James Naismith is smiling.