One of the big changes in American religion over the past several decades has been the increasing number of the religiously unaffiliated. These are people who may or may not believe in God or a higher power (and, actually, most do), but they do not align themselves with a particular religion.
Last year the Pew Foundation released an informative report on the nones that had the punchy subtitle "1 in 5 adults have no religious affiliation."
While the rise of the nones, as Pew calls it, is receiving a lot of attention, most the action happened in the 1990s. Before then, a steady 6-7% of Americans did not affiliate with religion, but during that decade it about doubled.
Here's a figure that I put together that illustrates the number of religiously affiliated American adults. It contains data from three sources: the General Social Survey, American Religious Identification Survey, and the Pew Data. Despite measuring religious affiliation with different questions, the three sources are surprisingly in agree.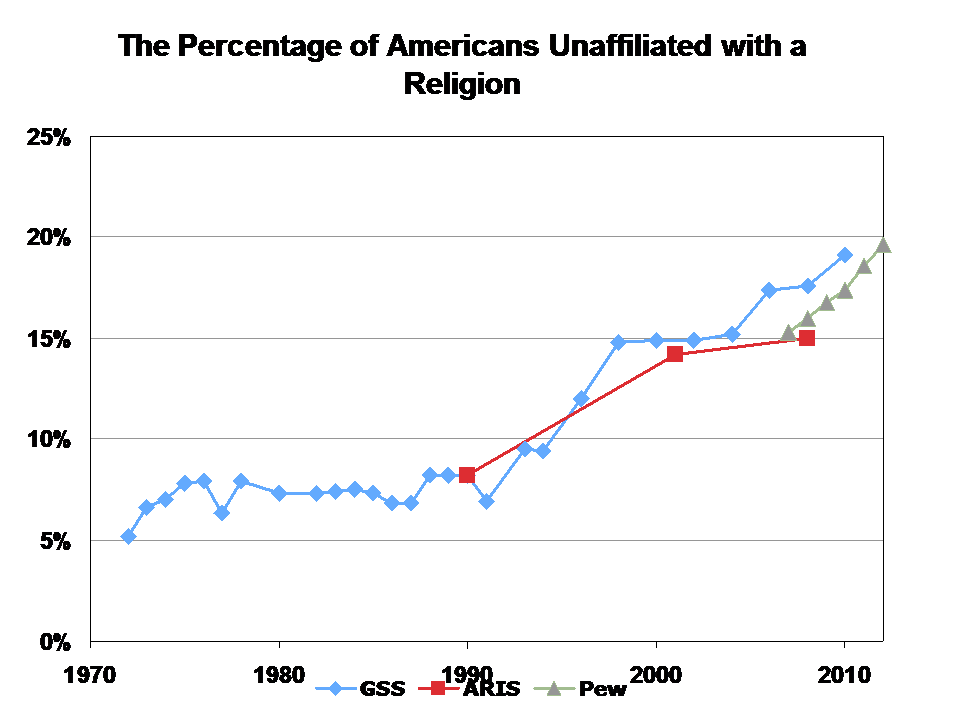 As you can see, the rise of the nones has three movements… steady, low levels in the 1970s and 80s, rapid growth in the 90s, and slower growth in the 2000s.
What will happen next? Who knows. Some assume that runaway secularization will promote unaffiliation to even higher levels, but others are more cautious. In fact, demographer Eric Kaufmann makes the case based on deconversion rates and birth rates, the percentage of Americans who do not affiliate with a religion will soon level out.