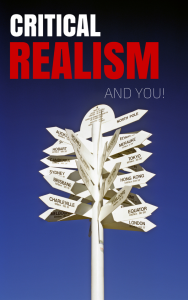 As part of an upcoming webinar on Critical Realism and Sociological Research Methods that I'm leading on May 3, 2016 at 12 noon, this is the first of 3 blogs with some resources on how critical realism can influence social science research methods (click here for blog #2 on CR & Methods, click here for blog #3 on CR & Methods, and click here for blog #4 on CR & Methods). Although I'm a sociologist, I've included books from other disciplines as well, such as economics, disability studies, and management. Even though I can't say enough good things about each of these books, I've noted a few key points I think each work contributes to research methods. I've bought each of these books and read them cover to cover. I cite them in my own work to backup my own use of critical realism as a meta-theoertical approach.
First, here are my five favorite books (in chronological order) explaining why critical realism matters for social science research:
To learn more, don't forget to register for my webinar in CR & Research Methods on April 28, 2016, at 12 noon EDT (you can see the recording even if you can't be there live). You should also read my blog about my presentation on CR & Research Methods from IACR 2015.