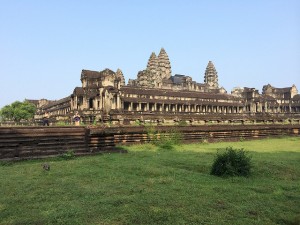 The second episode of "The Story of God" season 2 is about concepts regarding heaven and hell.
Like the first episode, Morgan Freeman and the producers had to stretch things a bit to find a way to include Buddhism. In this episode Freeman travels to the jungles of Cambodia to a place called Angkor Wat (City of Temples), the large religious monument in the world. It's been a Buddhist temple for hundreds of years, prior to that it was a Hindu temple to Vishnu. It's included in this episode, not because of what it represents today, but because it was originally created to be a reflection of a Hindu heavenly realm.
In the episode I was surprised to see that Morgan Freeman doesn't make the trip himself. We follow an archaeologist named David as he attempts to understand why reason why such an elaborate structure was built. Being the largest religious monument in the world, it took a lot of work. It's an incredibly elaborate structure and a wonder to look at. It's said that it was built to be attractive to the gods, to be a place they would want to come down and visit.
According to legend it was ordered to be built by the gods themselves.
It was designed and constructed in the 12th century, during the reign of Suryavarman II. It was build to be the king's temple and the capital city. It is the size of a city.
Around the end of the 12th century, Angkor Wat's importance slowly shifted. It changed from a Hindu temple to a Buddhist one, which is what it remains today.
Some of the first westerners to visit thought it must rival the temple of Solomon.
It's considered a big source of pride by the Cambodian people and actually appears on their flag.
The second episode of "The Story of God" season 2 is going to air on January 23rd on National Geographic.