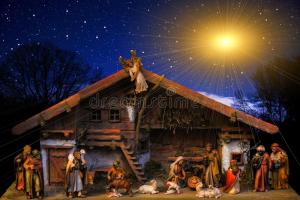 A few days ago I received a Christmas card with the phrase, "The hopes and fears of all the years are met in thee tonight."  Highlighted apart from the rest of the song, "O little town of Bethlehem," this single line struck me like never before.
The song was written in 1868 by Phillips Brooks, a rector of Philadelphia, after a trip to the Holy Land and seeing the nighttime Bethlehem from the hills of Palestine.  When he returned he had his church organist, Lewis Redner, write the melody for the Sunday school choir.  It's been a beloved Christmas classic every since.
O little town of Bethlehem
How still we see thee lie
Above thy deep and dreamless sleep
The silent stars go by
Yet in thy dark streets shineth
The everlasting light
The hopes and fears of all the years
Are met in thee tonight.
Hopes and fears are surely two things common to all of humanity.   The years go by with alternating degrees of one or the other or both in each of us.  When our faith is strongest, we're likely to hold more hope.  When our faith is weakened, fear can take over.
Naturally we want the hope that isn't just, "I hope so," but "I know so," but a crisis, a life altering blow can rock our reliance on God.  The fear can be exhausting, paralyzing. And that's for those of us with faith!  When we're hoping for miraculous healing for a relative with a heartbreaking prognosis, we're simultaneously working to overcome the fear of what's next.  We're hopeful for a better situation at work, while anxious it might not improve.  We're praying for a more stable world, but current events can make us question where God is. Family members hurting each other, financial struggles, a sudden death of an adored person, a lost home, addiction, our own sin, any number of traumatic events can throw us into turmoil and fear.  Our feelings and fears can be the devil's playground, leaving us vulnerable to despair.
Do Not Be Afraid
God reminds us that He is with us, and that He can give us peace, a peace the world can't provide.  "Do not be afraid!" is the most commonly repeated phrase in the entire Bible. St. Paul exhorts us: "Now may the God of hope fill you with all joy and peace in believing that you may abound in hope."   Yet our humanity means our moods and emotions can change, and our circumstances can change our triumph of hope over fear.
Have you ever witnessed someone you love going through deep and prolonged personal pain and suffering, yet resisting and refusing to give in to the temptation to despair?  Trusting in God's unchanging nature and unchanging promises can take heroic virtue, but one of those promises is to walk with us through our trials when we seek Him in prayer.  "Cast all of your anxiety on him, because he cares for you" (1 Peter 5:7).   At Christmas we are reminded that He wants us to turn to Him in surrender, praying for the grace to put our trust in Him more and less in the promises of the world.
We want to hope, we want to know, there's something better coming if we trust in Him.  We want to know our sufferings have a purpose, that God has a plan even when it sure looks like meaningless random chaos from our standpoint.  We want to hope and know we will be with our loved ones again, that pain and suffering and offering it up will be rewarded.  We want to know it will all make sense.  God can get us through our fears and surround us with His peace when we submit the 'what if's' and 'why can't' and 'it has to work out my way' to Him.   In John 6:68 we are told Peter said,  "Where else should we go, Lord?  You have the words of eternal life."
The birth of Jesus Christ brought all the hopes and fears of all of humanity together in His plan for our salvation .  This Christmas we can ask and allow Him to overcome our fears with His hope.  Not the hope of, 'I hope so," but "I know so."
photo: dreamstime