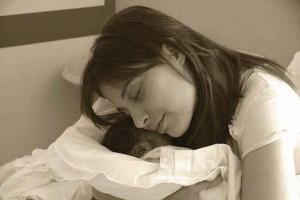 Chiara Corbella Petrillo was a young Italian woman who died in 2012. Now her remarkable life is being considered for sainthood.
Chiara lived only 28 years. Yet in her short life she showed heroic virtue.
At age 18 she met her husband Enrico Petrillo on a pilgrimage to Medugorje. They married in 2008. The young couple shared many challenges, including the death of two children, who each died only 30 minutes after birth. Chiara and Enrico had three other children.
During her final pregnancy with son Francesco, Chiara was diagnosed with cancer. An unusual lesion was found on her tongue, which was later discovered to be a fatal carcinoma.
Chiara rejected any treatment that could have saved her life during pregnancy because it would have risked the life of her unborn son. With the cancer progressing, it became difficult for Chiara to speak and see clearly, making her final days on earth particularly excruciating.
Chiara's selfless love and courage in the face of such sacrifice has touched the hearts of thousands across the globe.
"In the story of the Petrillo couple, many people recognize a providential consolation from heaven," said Simone Troisi and Christiana Paccini, close friends of the Petrillo's who wrote the biography of Chiara's life.
"They discover that in any situation, there is no real reason to be sad. This is because Chiara shows that if you have God as your guide, misfortunes do not exist," they told CNA.
"Her [Chiara's] suffering became a holy place because it was the place where she encountered God," Troisi and Paccini remember.
Although many couples have difficulties, Troisi and Paccini say there was something different about the Petrillos – they leaned on God's grace which made their family beautifully serene. They made peace with the reality that Chiara would never grow old with Enrico or watch Francesco grow up.
During Chiara's last days, Enrico embraced God's grace just as Chiara did, saying, "If she is going to be with Someone who loves her more than I, why should I be upset?"
Chiara died on June 13, 2012 at home in her wedding gown, surrounded by her family and friends. Although her earthly life was over, Chiara would continue to be a witness to joy.
Troisi and Paccini believe that Chiara's legacy is still living on because she gave witness to the truth that "love exists."
They say the young couple showed how, "the purpose of our life is to love… to be married is a wonderful thing, an adventure that opens you up to Heaven in the home."
Chiara and Enrico's remarkable story is "a story of salvation in which God shows himself as a faithful God: they trust in Him and are not disappointed," they stated.
However, they pointed out that Chiara was not "an extraordinary young woman, in a way that makes her different from us." S he struggled with common fears and anxieties, especially with thoughts of pain, vomiting, and purgatory.
"She had the same questions that we have, the same objections and struggles, the same fears," Troisi and Paccini said, saying the difference in her was her "capacity to cast everything on the Father, to welcome the grace needed for whatever step she had to make."
"We would share simple things like dinner, chatting, games on the rug with little Francesco… always very simple, without masks," they remembered.
"But when we were together, there was no difficulty in believing that eternal life was here and now!"
Chiara has been called "a saint for our times." Her legacy lives on and has inspired others around the world to be the same witness to joy.
"Today, this joy is visible in those that lived alongside her: even if they miss her, they experience a mysterious and profound joy," Troisi and Paccini stated.
"We cannot insist enough on the fact that Chiara did what she did, not trusting in her own strength, but trusting in the grace and the consolation of God… She never doubted God's faithfulness to His promise of happiness for her story.
"Chiara Corbella Petrillo: A Witness to Joy," is her biography, published by Sophia Institute Press.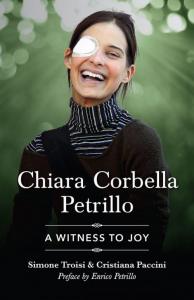 photo: Sophia Press
http://www.chiaracorbellapetrillo.it/en/
You may also find this interesting: http://www.patheos.com/blogs/bornagaincatholic/2017/12/son-needed-rejecting-amniocentisis/