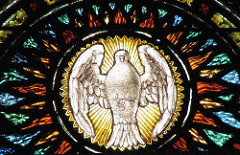 A belief in karma seems to be on the upswing. The karma concept stems from an eastern mentality, specifically Buddhist, that says we all get what we deserve. Kind of a , "what goes around, comes around" view. But the Holy Spirit has been with us all along and is much more real than any sense of 'karma.'
Part of this karma kind of thinking isn't a bad thing. Believing we are responsible for our own actions is something many of us need to learn. Our actions matter in our family, our community, workplace, the world. They even matter to us individually.
But another aspect of the traditional karma mindset says rejects the Catholic understanding of God, as He has revealed Himself to us. Yes, our actions have consequences, but because of God's infinite mercy, we don't always get what we deserve – we often get far better! In fact, He promised us far better! We are all sinners, but we are all offered complete and total forgiveness through Jesus Christ and the sacrament of Confession. So Catholicism constantly reminds us that what God offers us is so much better and so much more than mere karma – fate – because He's given use the assurance of freeing us of our past sins and obtaining salvation, not because we deserve it – but because this is the free gift He wants to give us!
The Buddist philosophy of karma also teaches reincarnation, that we can have past and future lives. We can be punished in a future life for something we did in this life or a past life. Christianity accepts the gift of the one life we are each given, followed by eternity. It seems to me that once any Buddhist becomes acquainted with Jesus Christ, it would be a no-brainer to choose you-get-what-you deserve/fate thinking vs. complete-forgiveness-and-salvation offered to all who accept Christ and confess their sins. Talk about a great deal!
The Holy Spirit is Ready to Guide Us
Recently a friend who teaches 8th grade religion class to public school kids realized she was making some sense after a conversation about 'luck' and 'karma'. One of her students told her the following week that he'd pointed out the difference to his cousin the night before. "My cousin said, 'It was karma; that's why our team won!' and I said, 'No, not karma, the Holy Spirit! We prayed to the Holy Spirit to help us, remember? That's what made the difference!"
In Galatians 6: 8-9, Paul reminds us to keep eternal judgment in mind in our daily life: "a person will reap only what he sows, because the one who sows for his flesh will reap corruption from the flesh, but the one who sows for the spirit will reap eternal life from the spirit. Let us not grow tired of doing good, for in due time we shall reap our harvest, if we do not give up."
Photo by <a href="http://foter.com/author/bac11e">hickory hardscrabble</a> on <a href="http://foter.com/re/aba0ed">Foter.com</a> / <a href="http://creativecommons.org/licenses/by/2.0/">CC BY</a>