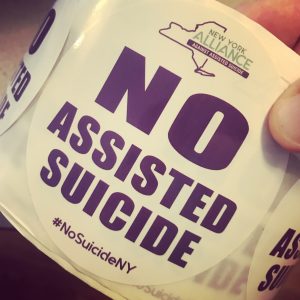 This week a hearing was held in Albany on Bill A.2383 which would amend NY's current public health law to legalize assisted suicide. Disability rights activists are among several groups speaking out in opposition to this proposal that would give physicians the power to end lives under the euphemism, "aid in dying".
The Medical Aid in Dying Act, or bill A.2383-A is being pushed by advocates of "choice" in dying, and was heard in the New York Assembly Health Committee.  The reasons to oppose legalization are many and varied and have a history of negative outcomes in the six states where assisted suicide is already legal.
"The mere suggestion that disability acquired as the result of illness is cause enough to end one's life is a devaluation of disabled peoples' lives, and it's offensive," said Kathryn Carroll, an attorney and policy analyst with the Center for Disability Rights, who spoke at Monday's hearing.
"Our focus should be on expanding access to services and supports that allow people to live with dignity, rather than assisting their suicide," Carroll continued.
She warned of the danger posed by economic incentives for insurance companies and caregivers to push assisted suicide on the terminally ill as the cheaper option, instead of longer term end-of-life care.
"As long as these external influences exist, the promise of a choice to end one's life is a lie," Carroll said.
Dawn Eskew of NY Against Assisted Suicide points out, The bill states that the persons seeking the fatal dose must have a prognosis of six months but prognosis is not an exact science. Also, people with certain diseases such as diabetes who may have years left to live, would be considered terminal if they stop insulin!  Someone who decides to stop their treatment, maybe due to depression, pressure from family, a feeling of being a burden, etc. could easily get a prognosis of terminal. "This bill is not necessarily for those who are dying, but for those who have years left to live."
Mel Tanzman, executive director of Westchester Disabled on the Move and the chair of the health committee at the New York Association on Independent Living, also spoke, on behalf of over 40 organizations who serve individuals with disabilities in the state of New York.
"Fears of becoming disabled and facing functional loss, whether the cause is injury or illness, are often reported by doctors as reasons patients request assisted suicide in states where it is legal," Tanzman said.
"The disability community strongly opposes the belief that requiring the assistance of another individual for activities of daily living, such as dressing, bathing and toileting, is undignified or a legitimate reason for New York State to legalize physician assisted suicide," he continued.
Tanzman rightly pointed to the possibility of "
coercion and abus
e" in such legislation, noting reports that similar assisted suicide measures in other states have experienced "
ineffectual safeguards
" against abuses for the terminally ill or disabled.
Another group working to educate the public about the real life ramifications of legalizing assisted suicide is the NY Alliance Against Assisted Suicide.  "We believe New Yorkers should be assisted in living, not dying."
Kristen Hanson, Community Relations Advocate for the Patients' Rights Action Fund, testified: "Legalizing assisted suicide will result in more abuse and less choice for those who are most vulnerable.  I know this. I am the widow of JJ Hanson, a vibrant 36-year-old father who died of terminal brain cancer less than 4 months ago. I can assure you, as he was dying, my husband wanted, and needed, better access to in-home hospice services, but he couldn't get it. Where was his choice? New York ranks 48th among the 50 states for hospice utilization and it has the second-lowest number of providers per beneficiary. The State Legislature should be promoting better access to hospice and palliative care, rather than pushing assisted suicide."
Sally White, MD, testified:  "The legalization of doctor-assisted suicide would profoundly undermine the trust between doctor and patient and turn the healing profession on its head. We need to better train medical professionals in palliative medicine and pain management protocols in order to relieve terminal patients of their physical suffering. We need more and better end-of-life care in New York. People wouldn't feel so hopeless if they had access to mental health, in-home, hospice and palliative care, as well as family respite service. We need to provide aid-in-living, rather than so-called 'aid-in-dying'."
The bill's New York City hearing is scheduled to take place on May 3, where Not Dead Yet, a disability rights activist group, will be testifying.
The Medical Aid in Dying Act is not the first attempt to legalize physician assisted suicide within New York. Last fall, an appeals court in the state ruled against a lawsuit which stated that citizens have a right to choose doctor-assisted suicide.
The lawsuit claimed that the state's law against helping another individual commit suicide does not apply to doctor-assisted death, arguing that the ban on physician assisted suicide is unconstitutional because it denies patients the right to self-determination.
However, seven judges of the New York Court of Appeals unanimously shut down the case, saying the current law against assisting with suicide did not make exceptions for doctors. The judges also said the measure would induce undue pressure on terminal patients to end their lives.
Physician assisted suicide is now legal in California, Colorado, Oregon, Vermont and Washington.
www.NoSuicideNY.org
https://www.archny.org/news/the-case-against-assisted-suicide
Aid in Dying Laws Leave Many Vulnerable: Choice is an Illusion