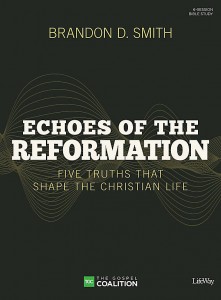 The young, newly ordained Catholic priest stood in front of the church, ready to officiate his first mass. These priests were expected to have clean hearts before officiating—no sin unconfessed. No heart of stone unturned.
But as Martin Luther began to recite the introductory portion of the mass, with the bread and wine on the altar in front of him, he almost passed out. "I was utterly stupefied and terror-stricken. … Who am I, that I should lift up mine eyes or raise my hands to the divine Majesty?"[1]
This conviction cut Luther to the core. He was a wretched sinner, and he knew it. God used this conviction for good, even through all of Luther's faults, imperfections, and sins. And although he wasn't trying to start a Reformation (and definitely not a revolution!), he couldn't square his understanding of God's character and grace with the works-laden salvation of the Catholic Church.
The five solas of the Reformation were birthed out of Luther's convictions, though developed long after his death. And if we never learn another thing about God or his work in our lives, these five truths would be more than enough. They still echo in our world and our lives today, if we're willing to listen. 
Sola Scriptura – Scripture Alone
All Scripture is inspired by God and is profitable for teaching, for rebuking, for correcting, for training in righteousness, so that the man of God may be complete, equipped for every good work. (2 Tim. 3:16-17, CSB)
The Church in Luther's day didn't mesh well with this Scripture. They taught that the Pope could access God in an equal way as the Bible. The Pope, in a very real sense, had as much power as Scripture.
But Paul tells Timothy here that Scripture is from God and makes Christians "complete." It's not Scripture + the Pope, or Scripture + anything else. Scripture alone is all we need to learn about God and teach others about God. 
Sola Gratia – Grace Alone
For sin will not rule over you, because you are not under law but under grace. (Rom. 6:14, CSB)
Grace is most easily defined as "unmerited favor." God gives grace because he's loving and merciful, not because we deserve it. It's free. Absolutely, positively free. We are saved by grace alone.
The Church can't sell grace, and Luther knew this. Indulgences put an unbearable law back on God's people. The Church said, "Do this and do that, buy this and buy that, and God will give you grace when it's time for punishment for your sins." Talk about pressure!
But God in his Word tells us that we've got no shot of earning it. And that's okay, because Jesus is walking, talking grace; grace with ten fingers and ten toes. The fact that his feet touched the earth's soil shows us that we couldn't do it alone. 
Sola Fide – Faith Alone
For you are saved by grace through faith, and this is not from yourselves; it is God's gift—not from works, so that no one can boast. (Eph. 2:8-9, CSB)
In this verse, we see grace and faith together. That fact that we even have faith is a gift of grace! God didn't have to give us faith. He could've pulled the plug on the whole thing after Adam and Eve sinned, leaving us wandering in the dark. But he didn't.
We are justified—declared to be right with God—through faith alone. This sola is perhaps the cornerstone of the Reformation. Luther's struggle with his own sin, his continued feeling of being an absolute wretch, reminded him that faith was all he had. He couldn't offer anything else. Knees on the ground, palms in the air—he had faith that God saved him, and that was his only hope.
Solus Christus – Christ Alone
Jesus told him, "I am the way, the truth, and the life. No one comes to the Father except through me." (John 14:6, CSB)
There is no Christianity without Christ. Real shocker, I know. But sometimes, when we're caught up in ourselves or even our churches and ministries, we forget that we don't own Christianity. We're on Christ's mission; he's not on ours. There is no grace without Christ. There is no faith without Christ. Frankly, there is no Scripture without Christ, for Scripture is about him (John 5:39).
Luther saw the Church abusing its power, taking Christianity away from Christ. In his eyes, they had put the Pope in place of Christ. He once said, "You are not lords over the pastoral office … You have not instituted the office, but God's Son alone has done so."[2] When it comes to salvation, Christ alone. And even when it comes to church leaders, who are supremely important to the church according to Hebrews 13:17—Christ alone.
Soli Deo Gloria – Glory to God Alone
The heavens declare the glory of God, and the expanse proclaims the work of his hands. (Ps. 19:1, CSB)
We noted earlier that sola fide might be the cornerstone of the Reformation. If that's the case, soli Deo gloria might be the mortar that holds the stones together. As one theologian has pointed out, the Church in Luther's day didn't deny the importance of Scripture, grace, faith, and Christ in salvation. But if you asked about "the little word alone, we would soon find genuine disagreement."[3]
God's glory alone? Well, the Church ran into a bigger problem here—God can't have all the glory if we play any part in salvation. And the Church was determined that works were an essential part of salvation, not just an outflow from it. Luther rightly fought against this. God gets all the glory, not us. We're just blessed to be able to look up and see the heavens declaring his glory.
May these five core truths help us to understand and enjoy the goodness, grace, and glory of our God.
This post is adapted from my new Bible study, Echoes of the Reformation: Five Truths that Shape the Christian Life.
—
[1] Bainton, Here I Stand, 30.
[2] George, Theology of the Reformers, 102.
[3] VanDrunen, God's Glory Alone, 14.