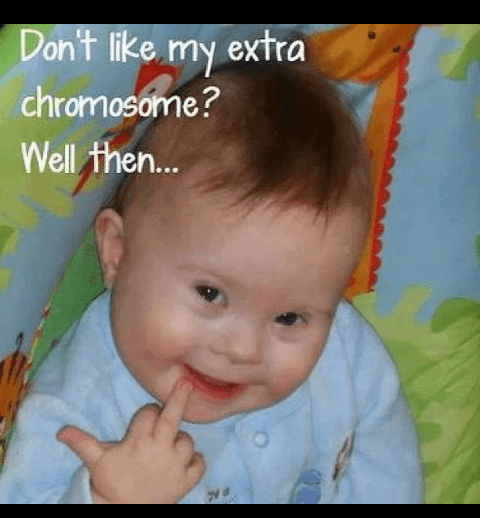 I love this. Warning, there are a few F words and other bits of profanity, but this is a refreshing response from a parent of a child who has Down Syndrome. (In fact, I love his attitude so much I had to post the above picture! His post demands it. 🙂 )
As a Dad who just learned your child has Down Syndrome, you will hear this myth everywhere: Down Syndrome is a devastating and painful diagnosis that will turn a parent's life upside down forever.

* It's in the literature. In a book titled: "Babies with Down Syndrome: A New Parents' Guide", the first sentence of the Chapter "Adjusting To Your Baby" says: "It is painful beyond belief to be told that your precious new baby has Down Syndrome."

* It's in the doctor's words of sorrow and apology; in fact, Doctors need booklets to "gently" deliver a Down Syndrome diagnosis.

* It's in mainstream media stories about Down Syndrome.

* It's in the voices of friends and family who say "I'm sorry" on your happiest day: the day you become a Daddy (again?).

* It's in nearly every "welcome message" from other parents.

Like the monkeys in the cage, nobody really knows why these beliefs persist. Doom and Gloom at the diagnosis of Down Syndrome? That's just how it's always been done.

Here's the problem, though: the Big Myth of Down Syndrome Doom and Gloom is a steamy warm pile of bullshit.
Read his 6 Steps to debunking the Big Myth here.
Thank you, Little Bird's Dad, for a great dose of perspective about Down Syndrome! You're a great dad.
Read more on the (new and improved) Patheos Faith and Family Channel!
Also, fan me on Facebook and follow this blog on Twitter!