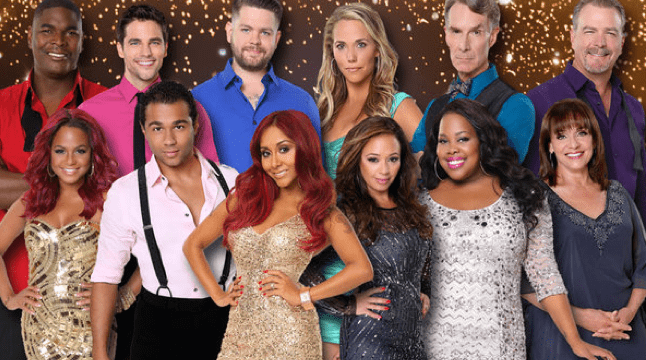 The 17th season cast of Dancing with the Stars were unveiled! 
Nicole "Snooki" Polizzi — The "Jersey Shore" alum is now starring on MTV's "Snooki and JWow." She hopes to do better than "Shore" co-star Mike "The Situation" Sorrentino, who finished ninth in season 11.

Keyshawn Johnson — So if the former NFL wide receiver and current ESPN analyst wins it all, will he ask Bergeron to "give him the d**n ballroom"?

Valerie Harper — The TV sitcom icon was diagnosed with a rare and lethal form of brain cancer but has said she is feeling much better, and doctors have told her there is "less evidence of cancer" now.

Brant Daugherty — The actor played Noel Kahn on ABC Family's "Pretty Little Liars" and Patrick Clarke on Lifetime's "Army Wives."

Christina Milian — The entertainer had a Top Five hit with 2004's "Dip It Low" and was "social media correspondent" for NBC's "The Voice."

Bill Nye — America's favorite "Science Guy" told The New York Times in 2008 that he was "obsessed" with swing dancing, going out to the dance floor up to four nights a week.

Elizabeth Berkley — She danced like a high school student on TV's "Saved by the Bell," then twirled around a pole (among other antics) for the film "Showgirls." Hopefully she'll find a middle ground on "Dancing With the Stars."

Corbin Bleu — He danced up a storm as Chad Danforth in the "High School Musical" trilogy and was recently seen as Jeffrey King in the online relaunch of the soap "One Life to Live."

Amber Riley — The actress announced this year that she would no longer be a regular on Fox's "Glee," where she's played Mercedes Jones since 2009.

Bill Engvall — The "Blue Collar" comic may have to give himself a sign if he exits early.

Jack Osbourne — The reality TV star hopes to do better than sister Kelly, who finished third way back in the ninth season.

Leah Remini — The actress briefly co-starred with fellow contestant Berkley on "Saved by the Bell" during the "Malibu Sands" era. Could we see a beach dance-off between the two?
I'm kind of excited to see Snooki! And glad they changed up some of the pros.
What do you guys think of the new cast?
Also, did you hear the show is only one day a week now?
Lastly, who do you pick to win it all?  (And don't tell me it's too early!  Let's have fun guessing anyway.)
Dancing with the Stars Premieres in a Brand-New One Night, Two-Hour Format on Monday, September 16 at 8|7c
Read more on the (new and improved) Patheos Faith and Family Channel!