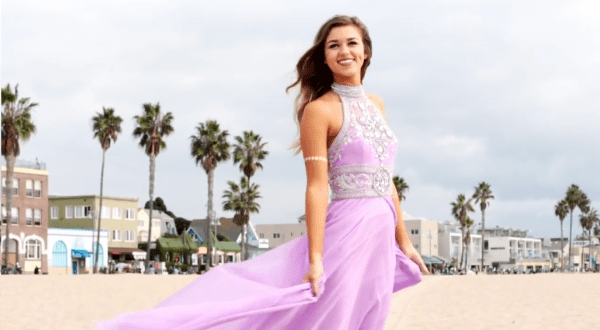 You guys know I loved what Sadie Robertson did on Dancing with the Stars last season. She was true to her values and her faith the whole season, especially in these two dances. She also got attention for choosing modest and age appropriate costumes, that were still adorable and beautiful!
I guess she had some practice in working with wardrobe, since last year she partnered with Sherri Hill to bring out the "Sadie Robertson Live Original" line of prom dresses at the NY Fashion Week. Well, the news just hit… she's doing more "daddy-approved" dresses this year!
I just LOVE that Sadie keeps standing up for what she believes in and doesn't give in to the pressure of popularity. Prom dresses have gotten pretty risque, and it's refreshing to see someone showing that respecting your body is still cool! Take my poll about modesty here:
Check out this video that gives a sneak peek at some of the designs. It's even set to a song by Mark Ballas, her partner from DWTS and the best dancing coach around (not that I'm biased or anything!)
Read more on the Patheos Faith and Family Channel, fan me on Facebook and follow this blog on Twitter!