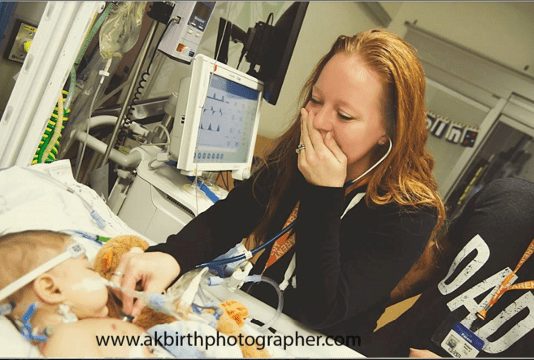 Some days we celebrate little victories, but recently Anchorage celebrated one of the greatest victories of all: life. 
A baby born with severe heart defects received a new heart at Seattle Children's hospital, giving him a new chance at life. KTUU shares more details of  little Lincoln Seay's recovery:
"He doing incredible. He's getting out of ICU soon. He's well on his way to healing," said Mindy Seay, Lincoln's mom, who works as a paralegal in Anchorage.

"Lincoln is doing well and will soon be moved from the Cardiac Intensive Care Unit to the Surgical Unit, where he will continue to recover until he is able to go home," said Alyse Bernal, the hospital's interim public relations manager.

Lincoln was born on July 14 in Portland, Ore. His parents knew when he was 20-weeks in utero that he had Heterotaxy syndrome, a birth defect that can result in a malformed heart. Anchorage doctors were not equipped to treat Lincoln so they referred the family to specialists in Portland.
I love reading that the Seay family's doctors, not only encouraged them, but helped them find the best possible resources to give their son a chance at life.  After multiple surgeries, many scares, long nights with a huge team of specialists, and eventually a transplant, the Seay baby is on the road to healing.
The Seay family is a beautiful testimony to the miracles God can perform — in any pregnancy and birth — even the most hopeless.
Click here to see more photos of the sweet baby.
Photo Courtesy of Seay Family.
Buy my Mom's new devotional, Sweet Freedom, in bookstores everywhere!
Read more on the Patheos Faith and Family Channel, fan me on Facebook, follow me on Instagram and follow this blog on Twitter!