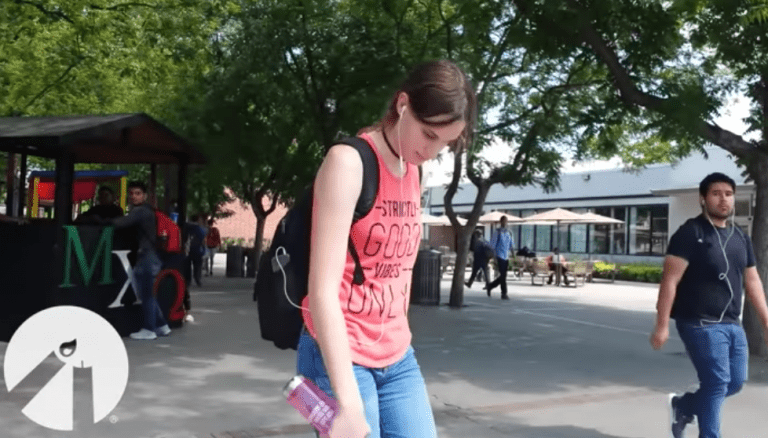 You have to appreciate the fact that this abortion activist was wearing a shirt that read "Good vibes only."  What sort of "good vibes" do you think babies feel as they are dismembered and pulled from the womb?
Or, even less dramatically, what sort of "good vibes" were going on in the video below? LifeNews reports that Wednesday, an activist was walking through campus at Fresno State University when she "was caught on video washing away pro-life chalkings at the school that were written by Fresno State Students for Life."  She didn't acknowledge or even care that she was being filmed doing it.  She simply splashed water from her water bottle onto the chalkings, rubbed the messages with her foot, and walked away.
Fresno State has a history of this type of intolerance.  According to the Daily Wire:
"Campus police have been given a copy of the vandalization video, and are also investigating another student who was caught several weeks ago tearing down Students for Life flyers on campus opposing Senate Bill 320, which would force 4-year public colleges to distribute free abortion drugs," reports LifeNews.

Fresno State professor Greg Thatcher faced a lawsuit from the Alliance Defending Freedom and Students for Life for ordering his students to vandalize pro-life displays.
This is not what the "marketplace of ideas" is supposed to look like.  Though I'm not sure what precisely this activist destroyed, other messages done on campus included phrases like "Women deserve better than abortion" and "love them both."   That's hardly the type of message that demands snuffing out.
The chalkings apparently included some "inconvenient truths" about fetal development.  So, instead of making her own chalkings, or having a productive conversation with the pro-lifer, she simply destroyed the message and walked away. Oops.  That's not quite right.  She didn't destroy the message, she just destroyed the chalkings.  The sad truth for her is that she can't do anything to stop the momentum of the pro-life movement.
Here's the video:
Image Credit: Screen cap
Hat Tip:  LifeNews