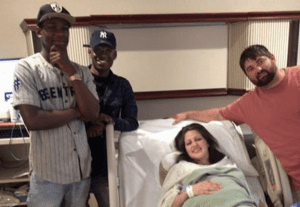 Our news feeds are filled with harsh words, tragic stories, and controversial news stories.  It can feel overwhelming sometimes to scroll through and realize just how divided America is right now.
So I was so refreshed when I read the story of the Williams brothers.  
Fox 2 explains
:
Deorick Williams says it all started when his brother Dennis' number was accidentally included in a group text about a family's newest addition over the weekend.

"We are at the hospital. Having a baby today! She has dilated to between 5-6," read the text.

At first, the brothers responded with a courtesy text to let the sender know she'd reached them by mistake.

"Congrats lol but I think someone got the wrong number," they wrote back.

But after a second text came through with a picture of a woman holding a newborn, and the caption, "7 lbs. 11 oz.", the brothers decided to take things to a whole new level.

"Well I don't know Yall but me and the boys will be thru to take picture with the baby," Dennis said.
The brothers ended up showing up to the hospital with baby gifts in tow.  How fun is that!  I love these guys!

New life is a miraculous thing, and I love that it brought these strangers together to celebrate!  Our culture constantly tells us that babies are a nuisance and an obstacle to our happiness and success.  This story is a great reminder that no matter our differences, we can all celebrate life!
 Stay in touch with BRISTOL PALIN! Like Patheos RED on Facebook: