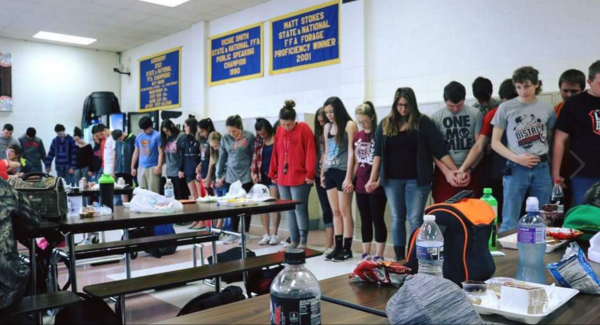 As parents, we pray our children will take our faith and it make it their own. We instill in them the building blocks of a relationship with Jesus, and hope they will have the boldness to carry it through their lives.
A few children in Hollister, Missouri recently made their parents very proud. The atheist organization, Freedom from Religion Foundation, sent the district officials a video featuring a pastor praying with students during a lunch period.
Along with the video came a letter spewing demands and complaints. In response, students in Hollister have risen up in rallies to defend their right to prayer.
The Blaze shares the inspiring story of these student's faith:
The atheist organization posted a statement last month claiming that it had "learned that youth ministers have been allowed admittance to several public schools in the Branson area…"

The group has since asked that officials "immediately stop KLIFE representatives from visiting district schools" and "halt organized prayer during the lunch period," calling these paradigms unconstitutional…
Did they forget the phrase "Freedom of Religion?" Ironic, considering they modeled their name after one of the most important rights in the Constitution.
But students in the area are standing up and pushing back, with pictures of student-led prayers accompanied by the hashtag #praywithHollister peppering social media, KOLR-TV reported.

While Hollister Superintendent Brian Wilson reportedly told the outlet that the minister went "beyond school policy," he said that he doesn't believe that such an issue will unfold again in the future.

For now, the district will continue to permit an open lunch period that allows members of the community — including ministers — to come in.
To the students in Hollister: you are what our country needs! Continue your hard work, stand strong together, and don't allow yourselves to become discouraged. You are fighting a hard battle, but one that has value beyond measure.
Watch the video below and click here to see more pictures:

Image: Facebook
If you love this nation, like America the Beautiful on Facebook: