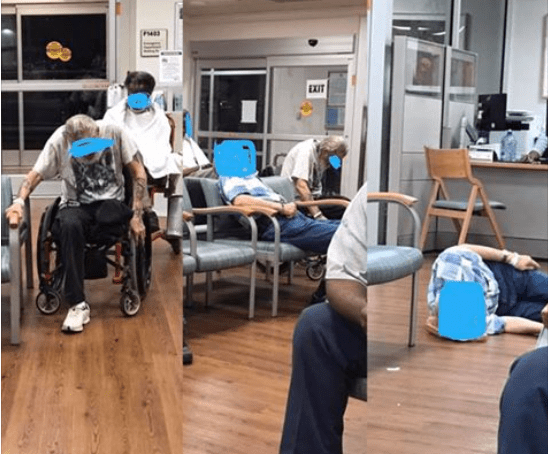 A Facebook post by a concerned veteran family has gone viral for exposing the horrible way the Veterans Administration is treating the men and women who sacrificed so much for this country.
Stephen McMenamin, a former Marine, was in the VA hospital waiting room in Durham, North Carolina with his wife, Hanna, and they were both shocked at the horrors they saw. Two older men appeared to be struggling with severe pain as they sat for hours receiving no care. One man fell out of his wheelchair and the other had to lay on the floor to get some rest.
"Somebody in real bad pain should be seen," said Jesse Lee, the veteran who fell from his chair. "It felt like a railroad spike was going through my foot. It's like one of the worst pains you've ever felt in your life."
Lee is suffering severe phantom pains after having his leg amputated, according to the Associated Press.
The other man was "very shaky, trembling and he was asking for help," Stephen said. But the couple watched as nurses ignored the men's cries for help.
"That's somebody's dad, that's somebody's grandfather," Hanna said.
So, the McMenamins decided to do something to bring urgent attention to how bad the VA is treating our soldiers. They took a few pictures and posted about what they saw on Facebook.
The hospital's director, DeAnne Seekins, released a statement after the post went viral:
"It is an honor to serve America's heroes and actions that do not align with our core values will not be tolerated. We pride ourselves on providing the highest quality care to the Veterans we serve and being responsive to our patient's needs. Veterans deserve nothing less."
However, the McMenamins say the VA is "very unhappy" they posted the photo and claim one of the men doesn't want the photo online. But that's why their faces are blocked out. The couple has sought legal help and are asking for more people to share the post so we can ensure our veterans actually get "the highest quality care" they deserve.
Click CONTINUE to see the Facebook post: