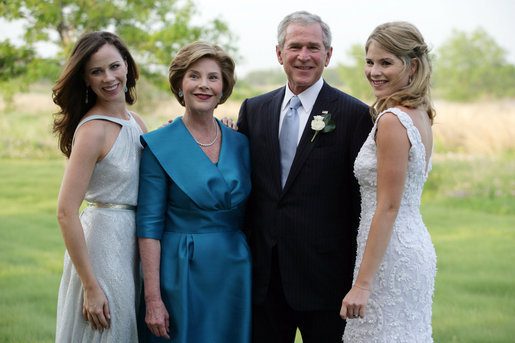 This is soooooo sweet. Former First Daughter Jenna Bush Hager wrote a letter to her two daughters, which begins:
"To my darling girls: Mila and Poppy, when I'm on the road, traveling away from you, I compulsively scroll through photos of you on my phone. I look at your eyes bright, your smiles wide, your skin pure. I have never seen anything more beautiful than the two of you."
She then goes on to explain how sometimes the world tries to take away the joy in life – and that almost always ends up with people comparing themselves to others. Jenna told a story about how her boyfriend dumped her after a swim date. Ouch.
But her parents — George W. and Laura — always reminded her of her worth:
My parents — your Jefe and Grammee — told me that I was smart and kind and pretty. They told me that I was enough. I didn't always believe them when they said I was beautiful. But, my darlings, I was lucky because even though your grandparents encouraged me to like what I see, they emphasized that I should like how I think, how I care and how I make those around me feel. They taught me that who I am is more important than how I look. And that if I radiate love, kindness and empathy, I can bring some light to this dark world (and isn't that better than being a size zero?).
I love it!