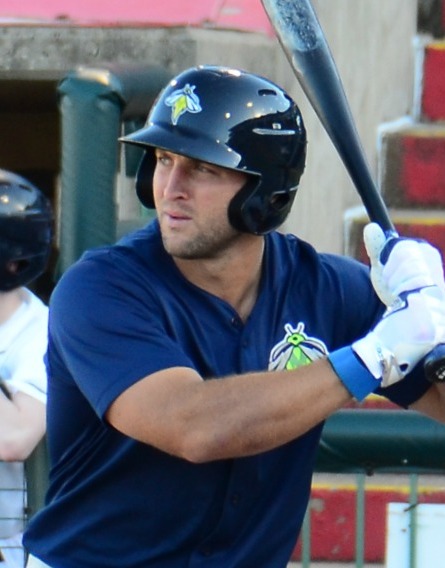 Have you ever thought that Tim Tebow's life always seems like a movie is being filmed all around him?  Well, here's the most recent example.  Tebow, as you know, is playing minor league baseball for the St. Lucie Mets. The New York Post has the details of a heart tugging moment that happened when his team played Charlotte:
While playing in the St. Lucie Mets' game against the Charlotte Stone Crabs on July 29, Tebow was standing in the on-deck circle getting ready for his at bat when he decided to go over to the stands and great an eager young fan.

The young fan, Seth Bosch, who has high-functioning autism, made his way down to the front row of the stands, reached through the protective netting and received a handshake from the former Florida quarterback. After shaking hands with Tebow, Bosch turned around to face his mom, who was filming the encounter, and raised his arm triumphantly.
The crowd roared in appreciation.  But when he got back to his seat, the little boy was so touched by the experience that he began to sob.  His mother turned off the camera as she comforted him.  Then, a few minutes later, she turned back on the camera and assured her son.  "Look, he's going to hit a home run."
As if inspired by the little boy's visit, Tebow did just that.
"I started crying too," his mother said. "How does that happen? I think God brought Seth and Tim together."
Tebow just seems like the nicest guy ever.
Watch this very touching video below:
Image By slgckgc [CC BY 2.0 (http://creativecommons.org/licenses/by/2.0)], via Wikimedia Commons