(Adam Hamilton, Enough, Revised and Updated: Discovering Joy through Simplicity and Generosity, Abingdon Press,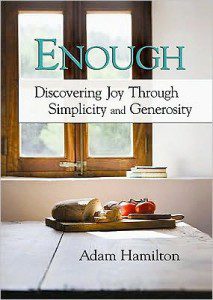 2009/2012, 165 pages.)
"Enough is as good as a feast," according to proverbial wisdom. Indeed a feast (or an all-you-can-eat buffet) can leave us stuffed, bloated, and miserable. And in this book Adam Hamilton, senior pastor of the well-known and fast-growing United Methodist Church of the Resurrection in Leawood, Kansas, invites us to make analogous insights into how we approach money. In our finances, might "enough" also be "as good as a feast?"
This volume sold 120,000 copies in its original 2009 release, showing an appetite for sane financial wisdom. And this expanded edition has an additional chapter written "In the Aftermath of the Great Recession." Although Hamilton's approach is more conservative than mine theologically, I admire his simple, direct pragmatism. The book includes a "Budget Worksheet" (63-65), "14 Financial Management tips" (159-160), and "Credit Card Pay-off Strategies" (161-162).
The opening chapter is titled, "When Dreams Become Nightmares." And in our advertising-soaked culture in which you can hardly leave your home without being bombarded with billboards and product-placement — all seducing you to be dissatisfied with your current possessions — I can easily think of expensive products that I think I would like to have (or, in Hamilton's language: dreams I think I want to come true) such as an iPad and a Blu-Ray Player. But do I really need a tablet computer when I already have a fully-functioning Macbook laptop and iPhone? And do I really need a Blu-Ray Player, when I have a quite-adequate DVD player? More importantly, could paying for these items/"dreams" begin to send my family into a financial nightmare?
We have a problem in our culture with "designed obsolescence," in which corporations design products to be thrown away instead of replacing parts. Moreover, almost every year (if not more often), we are tempted to buy the latest and greatest version, seducing us to be dissatisfied with what, only months before, was the brightest and shiniest gadget on the market. This relentless and insidious spiral of consumerism turns our (false, advertising-induced) "dreams" into all-too-real nightmares.
Instead, Hamilton invites us to slow-down and discern what our true dreams are both for ourselves and our children, our society and our world. Along these lines two of my favorite turns of phrase in the book are the following. First, pace Viola Walden, Hamilton asks, "What 'tent' will you live in — discon-tent-ment or con-tent-ment" (93)? Contentment with our present life, of course, reminds that often, "Enough is as good as a feast."
Second, he challenges us that, "When we are not generous…we have become financially and spiritually constipated." Ouch!
As a bonus, my fellow Patheos blogger Brian McLaren, in response to Hamilton's book, has written provocatively about "The Beloved Community vs. the Beloved Economy."
My challenge back to Hamilton is that his focus is too much on the failure of individuals to save and be content with what they have. Although certainly almost all of us, including myself, could benefit from better financial management practices, there is a systemic problem of inequity that his book does not address. For a recent accessible, data-driven analysis see Andrew Hacker 's article for The New York Times Book Review titled, "We're More Unequal Than You Think." But Hamilton's book is well worth reading as well, and would be appropriate for a congregational or small group study.
This book review is a part of the Roundtable at the Patheos Book Club.
Visit the Book Club website for more free resources related to this book.
The Rev. Carl Gregg is a trained spiritual director, a D.Min. candidate at San Francisco Theological Seminary, and the pastor of Broadview Church in Chesapeake Beach, Maryland. Follow him on Facebook (facebook.com/carlgregg) and Twitter (@carlgregg).