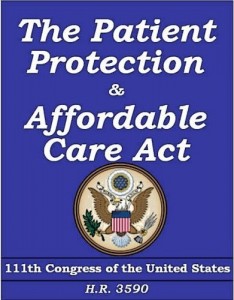 This day, August 1, 2012, should probably be proclaimed Women's Health Wednesday! Complete with that exclamation point! This is the day when a new set of provisions in the Affordable Care Act are implemented that specifically benefit women, as reported by RH Reality Check one year ago.
"The guidelines will ensure women have access to a full range of recommended preventive services without cost sharing, including:

well-woman visits;
screening for gestational diabetes;
human papillomavirus (HPV) DNA testing for women 30 years and older;
sexually-transmitted infection counseling;
human immunodeficiency virus (HIV) screening and counseling;
FDA-approved contraception methods and contraceptive counseling;
breastfeeding support, supplies, and counseling; and
domestic violence screening and counseling."

"The Affordable Care Act helps stop health problems before they start," said HHS Secretary Kathleen Sebelius. "These historic guidelines are based on science and existing literature and will help ensure women get the preventive health benefits they need."
The White House also announced a one-year transition period for religiously affiliated institutions to implement the policy, stating quite clearly that they do not have to pay for, subsidize, refer, or even mention contraceptive coverage (no birth control here, folks!), and that insurance companies will be required to provide contraceptive coverage without copay, which ends up to be a financial advantage for them in the long run.
And yet, the bishops are unhappy. Because they've not yet been able to prevent all women from using birth control. To be clear, the bishops have failed to convince Catholic women to use birth control, so they have moved on to impede the rest of us from exercising our religious freedom and conscience.
The Religious Coalition for Reproductive Choice issued a statement supporting and celebrating today's advances here. Put simply, leaders of many faiths "celebrate this victory for women's health and reproductive justice in this country."
With last week's news that a federal judge in Colorado ruled in favor of a secular company whose religious owner wants to deny his employees' contraceptive coverage, we can see how these efforts are not at all limited to Catholic institutions. And, we can begin to see how this goes far beyond legitimate protection of religious freedom.
Americans United for the Separation of Church and State points out that:
"No religious organization's rights are violated when an individual employee decides to use birth control," said the Rev. Barry W. Lynn, executive director of Americans United. "To be blunt, religious organizations should put an immediate stop to interfering with the intimate personal lives of others."

The Roman Catholic hierarchy and its Religious Right allies are pressuring the Obama administration to allow religiously affiliated hospitals and colleges to deny birth control coverage to their employees even if the coverage is paid for by insurance companies. The bishops are also demanding that Catholic owners of secular businesses be allowed to deny their workers contraceptive coverage.

AU pointed out that two courts have upheld a religious exemption similar to the one already put in place by the Obama administration. The real threat to religious liberty, AU says, is in broadly expanding the exemption because that would result in Americans' medical care being subject to sectarian oversight.
Let's be very clear on this: The bishops and other conservatives are not defending religious liberty.
They are opposing contraception. Period.
So let's celebrate a real advance today for American women's access to health care and preventative services. And let's remember that there are actually people opposed to this progress.