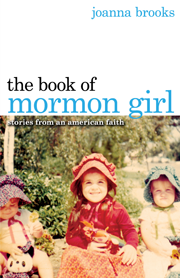 If you haven't yet read The Book of Mormon Girl: A Memoir of An American Faith by Joanna Brooks, you really should. A new edition is being published today with The Free Press/Simon and Schuster, slightly expanding the beautiful book that was issued last year.
I was drawn to read it last year in part knowing Brooks' work writing for Religion Dispatches, and in part because of the cover photo: I have an almost identical picture of myself and my cousins in bonnetted prairie girl outfits when we were young.
Half love story, half lament, Brooks talks about growing up in the Mormon tradition, and feeling betrayed as the message of love and community that inspired her morphed into something she didn't recognize when it came to the politics of women's rights and gay and lesbian inclusion.
She's a lovely writer, and you must read this book.
Author note: 'Honorable Mention' is a recurring feature on this blog … quick mention/shout-out to someone or something worth noting