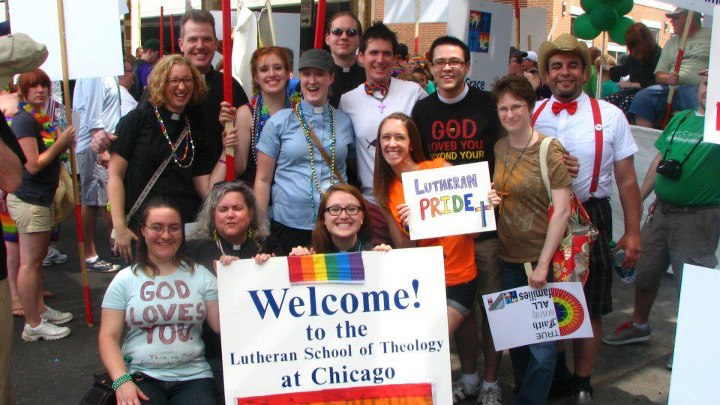 This picture is of students from the Lutheran School of Theology at Chicago, the school where I earned my Ph.D., at the Chicago Pride Parade earlier this year.  I was proud to call it my alma mater when the seminary's Board of Directors passed a resolution at its May 2012 meeting, establishing the school as a "Reconciling in Christ" community.  RIC is a designation in the Evangelical Lutheran Church in America recognizing "Lutheran communities that publically welcome lesbian, gay, bisexual, and transgender believers."
And while I'm happy that this happened, I regret that it took until 2012.  When I was a student there in the late 1990s, it was still a relatively contentious issue, among some students and some administrators.  I regret that there are some for whom this community's public welcome came too late.  And I celebrate with those who will now be able to explore their call and engage in theological education with authenticity and honesty.
Student Lucy Wynard wrote the following in an article in the community newsletter, later published on the seminary webpage:
"Becoming a Reconciling in Christ institution is about acknowledging one another as us rather than them, as members of the one body and one baptism the writer to the Ephesians references. It means affirming that you and I may hold different theologies – even opposing ones which make us uncomfortable and angry. But we still belong to one another because we belong to the same Jesus, the same Spirit, the same Reconciling God. It means we welcome one another without the expectation that we will all be the same or share all the same beliefs. In fact, I hope that it means we welcome differences and diversity because we trust that in them we will get to see more, not less, of God's image.  […]

I am hopeful enough to believe that, in a truly Reconciling in Christ community, people who otherwise would lob labels at one another, sending hurtful words across a great divide, can become true friends. LSTC is already committed to being such a place; taking on the label "Reconciling in Christ" is simply another way of holding ourselves accountable to that radically inclusive Gospel by hanging the welcome banner out. And hopefully people will hold us accountable to that – people from both sides of the divide."
This alumnus stands with you and wishes you well.
Author note:  'Honorable Mention' is a recurring feature on this blog … a quick mention/shout-out to someone or something worth noting.