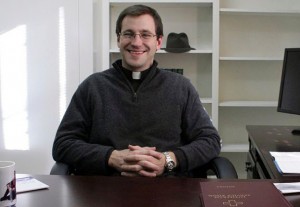 The headlines refer to Rev. Rob Morris as a Lutheran pastor reprimanded by his denomination for participating in an interfaith prayer service in Newtown, Connecticutt, just after the Sandy Hook massacre.
'MISSOURI-SYNOD LUTHERAN!'  … I want to holler every time I see it.
After I stop hollering, I want to point out that a similar thing happened to Rev. David Benke, who was for participating in the national interfaith service at Yankee Stadium after September 11, 2001.
And then I want to make sure that people understand that this kind of Lutheran denomination is not the only Lutheran church, and it's not even the predominant kind of Lutheran church in the U.S.
The New York Times tells Morris' story:
A Lutheran pastor who participated in an interfaith prayer service in Newtown, Conn., in the days after the Sandy Hook massacre has apologized after being criticized by the leader of his denomination for violating its prohibition against joint worship with other religions.

The Rev. Rob Morris, a new pastor who lost one of the members of his congregation in the shooting, defended himself in an open letter published by the church, saying that before the tragedy, he had spent hours with his congregation educating them about the differences between Lutheran teaching "and the teachings of false religions such as Islam or Baha'i," both of which had clergy members at the interfaith service. He also noted that, in his own prayer at the service, he had spoken about Jesus and quoted from the Bible.

"I believed my participation to be, not an act of joint worship, but an act of community chaplaincy," he wrote.

But he also apologized.

"To those who believe that I have endorsed false teaching, I assure you that was not my intent, and I give you my unreserved apologies," he wrote.
And it concludes with the connection to Benke:
In the weeks after the Sept. 11 attacks, the Rev. David H. Benke, the pastor of St. Peter's Lutheran Church in Brooklyn and the equivalent of a bishop in the church hierarchy, was suspended from ministry for taking part in a huge interfaith prayer service held at Yankee Stadium.

Mr. Benke had broken the First Commandment — "I am the Lord thy God" — by worshiping with "pagans," including Muslim, Sikh and Hindu clergy members, the Rev. Wallace Schulz, a senior official of the church, said then. Mr. Benke refused to apologize, and was cleared by a church panel in 2003 and permitted to return to ministry.
The differences between Missouri-Synod Lutherans and other Lutheran churches, like the Evangelical Lutheran Church in America to which I belong, are manifold.  The ELCA has about twice as many members, nationally, for example.  On the issue of interfaith relations in particular, I refer you to the ELCA's website with resources and information about the denomination's views on and commitments to inter-religious relations.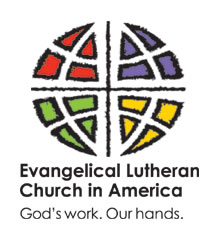 Two statements stand out as to what THIS kind of Lutheran church thinks about interfaith relations:
"If it is possible, as far as it depends on you, live at peace with everyone." ~ Romans 12:18
And:
We reside as Lutheran Christians in a rich pluralistic world where people maintain sometimes conflicting opinions, moral standards, social perspectives, political allegiances, and religious fidelities.

When the world encounters times of immense change, it affects our self-understanding:

'Given such diversity, what does it mean to be Lutheran?'
The ELCA thus encourages people to take the reality of pluralism and religious diversity as an opportunity to understand their own religious commitments better, and sees that it does not preclude God's work being done in partnership with people of other faiths.
And so, on that page, you will find, among other things:  A study guide for the Discover Islam DVD series;  Talking points for dialogue between Christians and Muslims;  Information on the Consultative Panel on Lutheran-Jewish Relations;  Resources on Countering Islamophobia;  A Buddhist-Christian Common Word on Structural Greed from Lutheran World Federation meetings in Thailand in 2010;  A publication on Interreligious Marriage in America;  An Interfaith Toolkit and an Inter-Religious Community Building Handbook.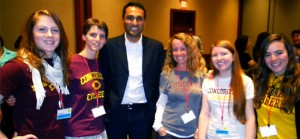 Additionally, one of the colleges of the ELCA, Concordia College, has a Forum on Faith and Life as an expression of the college's mission "to influence the affairs of the world by sending into society thoughtful and informed men and women dedicated to the Christian life."
The Forum on Faith and Life aims to foster a deeper, more compassionate understanding of one another and our life together, in defiance of traditional boundaries and stereotypes which all too often hinder authentic relationship.

To that end, the Forum creates exciting local and global opportunities for genuine encounter and transformative conversations with the intra-faith and interfaith neighbor.
THIS is what interfaithing Lutheranism really looks like.
There are other examples of this.  These are just a few meant to illustrate that there are so many rich ways that one can be a person of faith, committed to and part of a tradition, and also have "genuine encounters and transformative conversations" with our neighbors.
Indeed we must.
Images via NY Times, ELCA, Concordia College.