As Jews around the world begin marking Passover, The Religious Coalition for Reproductive Choice has shared a series of Seder prayers that lift up women's journey toward freedom and struggles against oppression. This "collaborative compendium of reproductive justice Passover readings" was put together in partnership with Jewish Women International, the National Council of Jewish Women, and the Religious Action Center of Reform Judaism in conjunction with Women of Reform Judaism.
From the introduction:
The four cups of wine we drink this evening are symbols of our freedom and God's presence in our lives. But, as the seder ritual reminds us, freedom is an ongoing journey. True freedom can only be enjoyed when all our sisters, brothers and others are freed of the many burdens that would delay or deny their inherent dignity.

Tonight, we retell the story of the Exodus and consider how it applies to our lives today. We are reminded that there is still bitterness in the world and iniquity in our homes and communities: politicians seeking to control women's reproductive destinies; perpetrators of domestic and sexual violence seeking to control women's bodies; and societal barriers seeking, perhaps inadvertently, to limit a woman's ability to recognize her full potential. These examples and others are today's plagues; they remind us of the constraints Pharaoh placed on our Israelite ancestors.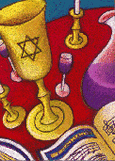 Prayer with the first cup:
So we raise the cup and recall: Our heartaches, the four promises, their fulfillment and our commitment to establish fairness and freedom for all. And we recommit ourselves to strengthen and extend the promise of reproductive justice, thereby honoring the integrity and sanctity of each woman's conscience and protecting her safe access to the legal medical attention that she and her doctor believes is right for her.
Prayer with the second cup:
Let this cup of liberation remind us that freedom is already within us and must not be taken away. No matter your age, your gender or your orientation (which is to say, no matter your practical concern), each of us and all of us were liberated from enslavement and none of us is going back.
Prayer with the third cup:
As we drink our third cup of wine, let us reflect: why is this right [to access abortion care] different from all other rights? What can we do to help bring us out of the slavery of judgment and injustice and into the light of freedom that tonight's seder celebrates and represents? What can we do to redeem and value the personal choices that women and families make and, in process, redeem ourselves and our community?
Prayer with the fourth cup:

This cup is for the women who do not find themselves embraced by a community, as we are tonight.

Women who endure injury, humiliation, and sexual assault and cannot talk about it. Women who suffered unspeakable abuses and did not live to tell.

This cup is for the shattered souls who never dreamed it would happen to them.

On Passover, as we celebrate liberation, we reaffirm our commitment to make all women safe in their homes and relationships.

This cup is for the women who find this night is no different from any other night. They are our sisters, they are ourselves, and they are not alone.
For other feminist seder rituals, head over to Miriam's Cup.