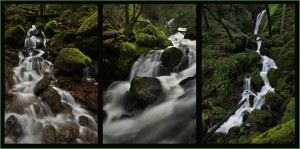 Rev. Jann Aldredge-Clanton has shared a new recording and video of her song "Let Justice Like Waters Roll Down," performed by the Chancel Choir and congregation of Pullen Memorial Baptist Church in Raleigh, North Carolina, conducted by Rev. Larry E. Schultz.  The words of course are from the book of Amos in the Hebrew Bible, and the tune is one familiar to many Christians (listen!).
Here are a few of Jann's words about this song and its intentional words toward justice:
Worship and social justice cannot be separated. Without justice, our worship rings hollow. The prophet Amos denounces those who offer sacrifices and songs in worship while oppressing people. God will not accept the offerings of those who "push aside the needy in the gate" (Amos 5:12, 22-23). Neither could She be pleased with hymns and other worship rituals that by their very language oppress by excluding or devaluing people.

Many traditional hymns sanction and perpetuate injustice through exclusively masculine references and symbolism of darkness as evil. "Christ-Sophia" is the central divine symbol in "Let Justice Roll Down Like Waters." This symbol holds promise for inspiring social justice through shared power. "Christ-Sophia" reclaims a lost biblical image and offers new possibilities for wholeness by overcoming dualisms and making equal connections between male and female, black and white, Jewish and Christian traditions, thus providing a foundation for communities based on partnership instead of domination.
Take a few minutes, listen and watch:
Here are some of the lyrics:
Let justice like waters roll down on our land;

help us, Christ-Sophia, to join in your plan.

Let righteousness like everflowing streams rise;

come fill and anoint us, O Spirit most wise.

 

Pure wisdom and justice flow forth from your hand;

with you as our guide evil forces disband.

Give us, Christ-Sophia, the grace to prevail

O'er systems and powers that keep captives held.
For more, head over to Jann's blog for lyrics and other creative inclusive work.
"Streams" image via Stacy Boorn.