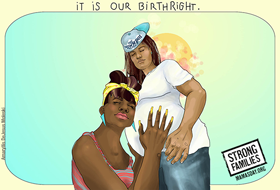 The Unitarian Universalist Association of Congregations describes the Mama's Day movement and it's connection to Mother's Day:
Mother's Day was originally founded as an antiwar rallying cry by Unitarian Julia Ward Howe. This history reminds us that Mother's Day is more than a day for flowers and pancakes. It's a time to highlight the aspects of motherhood that are not usually visible in the greeting card aisles. It's a call to honor the resiliency of all those who mother, especially those who bear the brunt of hurtful policies or who are weighed down by stigma in our culture. It's opportunity to take action to create the conditions so that all families can thrive.

Strong Families is a national initiative to change policy and culture in support of all families. Their annual Mama's Day Our Way campaign lifts up and celebrates the magic and heartbreak of being a mama. Across the country, individuals and organizations participate through on-line actions, story-telling, and local events which explore the myriad of ways in which mothering builds strong families and communities. Through an original line of beautiful e-cards; a blog series sharing the hopes, dreams, and needs of mamas; and opportunities to take action on critical policy issues—Mama's Day Our Way is a rallying cry for justice.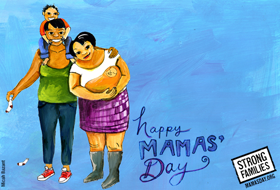 If you head over to the Mama's Day website, you will find a selection of beautiful ecards celebrating Mamas of all kinds.
And, in case you aren't familiar with it, here are some excerpts from Julia Ward Howe's original Mother's Day proclamation in 1870, "a passionate demand for disarmament and peace."
Arise, then, women of this day! Arise, all women who have hearts, whether your baptism be that of water or tears!

Say firmly: "We will not have great questions decided by irrelevant agencies. Our husbands shall not come to us, reeking with carnage, for caresses and applause. Our sons shall not be taken from us to unlearn all that we have taught them of charity, mercy and patience. We women of one country will be too tender of those of another to allow our sons to be trained to injure theirs."

From the bosom of the devastated earth, a voice goes up with our own. It says, "Disarm, Disarm!" The sword of murder is not the balance of justice. …

In the name of womanhood and of humanity, I earnestly ask that a general congress of women without limit of nationality may be appointed and held at some place deemed most convenient and at the earliest period consistent with its objects, to promote the alliance of the different nationalities, the amicable settlement of international questions, the great and general interests of peace.
Kind of makes those flowers and cards pale in comparison, doesn't it?
Images via Mama's Day.