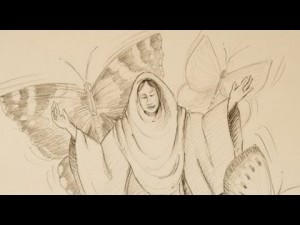 Recently, I shared a story about the power of images and language for God in which the author asks:
How many biblical images of God are there?  What about the deeply theological work behind expansive language for God?  We were indoctrinating children into an exclusively male image of God and it didn't seem like anyone noticed or cared!
Because there are people who notice and care about expansive and inclusive language for the divine, I'm happy to once again share a resource in the form of this performance of Rev. Jann Aldredge-Clanton's hymn "Come to Me, All You With Heavy Hearts."  Like much of her work, it brings new words into relationship with a familiar Christian tune:
Jann describes the biblical grounding of this hymn:
This hymn comes from the well known and loved words of Jesus, "Come to me, all you who are weary and are carrying heavy burdens, and I will give you rest. Take my yoke upon you, and learn from me; for I am gentle and humble in heart, and you will find rest for your souls" (Matthew 11:28-29).  Many people do not know that elsewhere in the Bible almost these exact words refer to Wisdom (Sophia): "Put your necks under her yoke, and let your souls receive instruction"; and "give your shoulder to her yoke. . . for in the end you will find rest in her" (Ecclesiasticus/Sirach 51:26; 6:25,28).  The book of Proverbs also portrays Wisdom as urging people to accept her teaching but never making this teaching specific.  The implication is that Wisdom is herself what is to be learned.  Jesus' invitation in Matthew 11 is similar.
The words of Christ-Sophia's call form the invitational refrain of the song:
"Come unto me, you weary ones,

and I will give you rest;

come, leave your burdens in my arms,

and lean upon my breast."
Each verse offers up a different response.  Here are two:
We labor, Christ-Sophia,

to bring your truth to light;

we often feel discouraged

when wrong prevails o'er right.
And:
You call us, Christ-Sophia,

our spirits to revive;

we learn from you the Wisdom

to keep our hope alive.
For more about the concept of Christ-Sophia, check out Jann's book, In Search of the Christ-Sophia: An Inclusive Christology for Liberating Christians