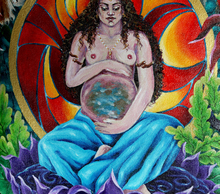 I have been in two different conversations with leaders in the churches this summer in which the ongoing need for inclusive and expansive language and images for the divine has come up.  I've shared stories and resources here on this blog that identify and speak to that need.  But truthfully, I find it hard to believe that it's still not taken for granted that we use many and varied life-giving images for God.
And even though this isn't typically a response I use to make a point (any point), I will say it here because those who oppose gender inclusive and expansive language often claim to be just following the bible:  THIS IS IN THE BIBLE.  The prophet Isaiah , for example, offers up a hymn of praise in chapter 42, and quotes the warrior God crying out and shouting against all foes:
"For a long time I have held my peace, I have kept still and restrained myself;  now I will cry out like a woman in labor, I will gasp and pant.  I will lay waste mountains and hills, and dry up all their herbage;  I will turn the rivers into islands, and dry up the pools.  I will lead the blind by a road they do not know, by paths they have not known I will guide them.  I will turn the darkness before them into light, the rough places into level ground.  These are the things I will do, and I will not forsake them." (Isaiah 42:14-16)
These are a ferocious woman's words … the cries of God in labor, furious and powerful.  Don't mess with her.  And yet, those who need her most can trust her with their lives.
This is the biblical text, then, that inspired Rev. Jann Aldredge-Clanton to write her hymn, "God Like a Woman Long in Labor Cries."  Here is a video in which the Pullen Memorial Baptist Chancel Choir sings it, accompanied by some beautiful images and artwork:
About the hymn, Jann says:
"Whether or not we have experienced the labor of childbirth, we all labor and often suffer as we labor. Sometimes we suffer because our labor for justice seems in vain. Sometimes our work is rejected, demeaned, trivialized, discounted, criticized. This picture of Deity as a woman suffering in Her labor can encourage and strengthen us with the assurance that our labor takes part in God's labor, and Her labor takes part in ours."
Here are some of the lyrics:
God like a woman long in labor cries,

feeling the pain of all earth's anguished sighs,

longing to bring forth justice evermore,

that joy and freedom ring on every shore.

 

God calls us all to join Her labor long,

feeling the pain of all who suffer wrong,

struggling to end oppression and its woe,

that like a river peace will freely flow.
For more resources, check out Jann's book, Inclusive Hymns for Liberating Christians.
Image via.