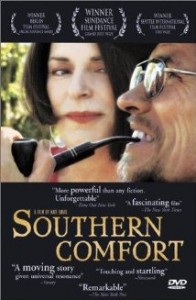 I'm a little delayed in my discovery of this film, but after a friend referred me to it multiple times, I finally got it on my Netflix queue and watched Kate Davis' multiple award winning 2001 documentary Southern Comfort.
Here's a description:
SOUTHERN COMFORT is a 90-minute feature-length documentary about the life of Robert Eads, a 52-year-old female to male transsexual who lives in the back hills of Georgia. "A hillbilly and proud of it," he cuts a striking figure: sharp-tongued, bearded, tobacco pipe in hand. Robert passes so well as a male that the local Klu Klux Klan tried to recruit him to become a member.

Though his home is nestled among tranquil hills dotted with hay bales, Robert confronts a world as hostile to him as if he were an African American in the ante-bellum South. He was diagnosed with ovarian cancer, then turned away by more than two dozen doctors who feared that taking on a transgendered patient might harm their practice.
I've seen Transamerica and Becoming Chaz and a handful of other narratives about trans* life and death. But there's something about this film that cuts through to the truth and plain humanity of this community of people making their way in an unlikely place, the back woods of Georgia. Maybe it is because the last community you'd expect to be welcoming to trans* folks is centered around country-trailer-living in the south. And yet they are. Maybe it's because you wouldn't expect people in need to experience overt discrimination and hostility from the medical community. And yet they do.
It's a story of love and intimacy, death and struggle, family and medicine, and you don't even have to rely on Netflix to get it, I've found it for you here on YouTube:
http://www.youtube.com/watch?v=iQ-JlnzNIps
Author note: 'Honorable Mention' is a recurring feature on this blog … a quick mention/shout-out to someone or something worth noting.